At Sophos, we appreciate how hard it is to solve security problems when developing applications – after all, we've dedicated the past 30 years to innovating and improving computer security.
Since founding SophosLabs, we've leveraged the expertise of our security engineers and researchers, and their intelligence and analysis services, using these as the foundation of many of our solutions to the most difficult cybersecurity problems.
Today, we are opening the doors on the Early Access Program for SophosLabs Intelix, our new cloud-based, threat intelligence and threat analysis platform, which is built from the same SophosLabs services that underpin our industry-leading solutions.
SophosLabs Intelix works via Application Programming Interfaces (APIs), part of our a Representation State Transfer (REST) web service. This approach ensures that all software developers of different skill levels should have no trouble getting access to our new services.
SophosLabs Intelix allows software developers around the globe to harness high quality, curated threat intelligence and rich, detailed threat analysis in their own tools, applications, and services. All without compromising on quality, performance or security, and removing the need to consume, aggregate and correlate multiple services from different vendors.
SophosLabs Intelix will initially offer three key services:
Cloud Threat Lookups quickly identify known threats in files, URLs, and APKs.
Static File Analysis analyses files using machine learning and static analysers.
Dynamic File Analysis executes files in a sandbox to reveal their behaviour and intent.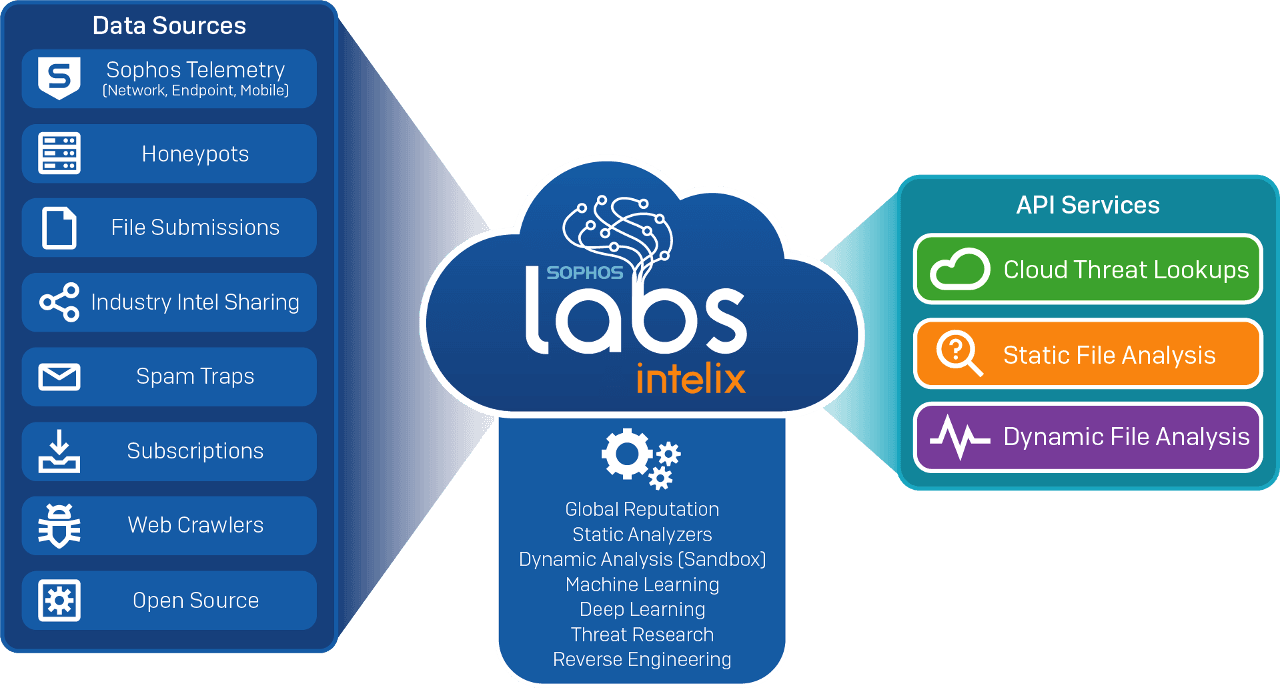 The Sophos Labs Intelix APIs will be available via the AWS Marketplace. Users have the choice between a monthly free tier or Pay As You Go (PAYG) pricing. The monthly free tier will allow each user a set number of API calls to each service for free, paying only for the requests that exceed the monthly free allowance.
For our partner community, SophosLabs Intelix is joining our Sophos Cloud Security Provider Program, adding to the range of technologies and solutions our partners can offer their customers.
Through enabling software developers to tap into the same technologies we use to drive our security solutions, we hope developers will innovate on top of our APIs, kick-start new security solutions, build more secure applications and services, and help make the digital world a safer place to be.
Join the SophosLabs Intelix Early Access Program today.