For the third year in a row, Sophos has the most women from any dedicated IT security company included on CRN's Women of the Channel list.
The leaders on this annual list are from all areas of the IT channel, representing technology suppliers, distributors, solution providers, and other IT organizations. Each executive is recognized for her contributions to channel advocacy, channel growth and visionary leadership around the world.
The following women from Sophos were selected by the editors of CRN based on their professional accomplishments, demonstrated expertise and ongoing dedication to the IT channel:
Kendra Krause, vice president, global channels
Justine Lewis, vice president, worldwide field and channel marketing
Erin Malone, vice president, North America channel sales
Caralyn Stern, senior marketing director, global channel and Americas
Allison Clarke, director, global channel programs
Regina Vignone, director of channel sales, North America, East
Andrea Carter, regional director marketing, NEMEA
Nicki Dewhurst, marketing director, Asia Pacific and Japan
Maria Claudia Ardila, channel program manager, Latin America
Claudia Vizcarra, regional sales manager, Latin America
Alejandra Garcia, country director, Mexico
2019 Power 100 list
For the second year in a row, CRN has also honored Kendra Krause, Erin Malone and Caralyn Stern on its 2019 Power 100 list, an elite subset of the group. The Power 100 recognizes women whose leadership and vision are key drivers of their company's success and have had significant influence to move the entire IT channel forward.
The Software Report Leader in Cybersecurity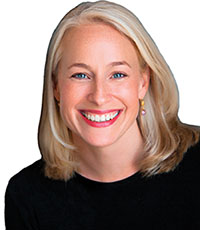 Sophos chief legal officer Eleanor Lacey has been named as one of the Top 25 Women Leaders in Cybersecurity of 2019 by The Software Report.
Hundreds of women were nominated for the awards and were evaluated on their professional capabilities via a series of questions, qualified information sources and publicly available information.
In assessing the candidates, The Software Report looked for demonstrated cybersecurity expertise, longevity in the industry, career progression and current position, among other factors.
We're delighted for all the award winners – congratulations!