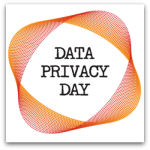 Data Privacy Day is a strong reminder that our privacy is becoming ever more important.
The amount of data we're collecting continues to grow, along with the variety of platforms for storing, processing and sharing it.
We might choose to think of data privacy in terms of how it affects us all as consumers, yet privacy is important to businesses, too.
Businesses keep all kinds of sensitive information on their customers, store personal data about their employees, and create valuable information and intellectual property that need protection.
So, to mark Data Privacy Day, here are some of the ways that Sophos can help businesses keep data private and secure.
Next-generation protection against data-stealing malware. 
Protecting your data starts with protecting the devices and the people with access to your data. 
Malware such as a zombies and info-stealing Trojans can do a lot of damage if they remain undetected, such as stealing passwords, sniffing your network traffic, or snooping through the files on your servers searching for valuable data.
Sophos Next-Gen Endpoint Protection and Next-Gen Firewall use innovative technologies to keep the bad stuff out and your valuable data in. They actually work in tandem, sharing information between firewall and endpoint – what we call synchronized security.
An infected endpoint will alert the firewall via the Sophos Security Heartbeat,™ allowing the next-gen firewall to isolate the endpoint and only reconnect it once it's secured. One malware infection at a single endpoint won't bring the whole business down with it.
Web filtering to block bad websites and keep malware out.
The web is the number one source of infection, and compromised websites and exploit kits are a serious threat to your users. Sophos helps you to keep one step ahead of the threats with advanced web protection powered by SophosLabs intelligence and our Live Protection technology.
SophosLabs provides continual updates on the latest malware, phishing, and distribution sites, as well as anonymizing proxies and other risky sites.
Email filtering to stop malicious attachments and keep sensitive data from getting out.
Sophos email protection blocks more than just spam – it keeps inboxes clear of phishing emails and boobytrapped attachments that can trick users into giving malware a foothold in your network.
Sophos Secure Email Gateway also keeps sensitive data from leaking out carelessly, with our advanced data loss prevention (DLP) and policy-driven encryption. Message bodies and attachments are automatically scanned for sensitive data such as credit card numbers, lists of email addresses or Social Security numbers.
Easy encryption for all your devices and data.
Your users demand access to company data, from anywhere at any time – on mobile devices and home computers, USB drives and in the cloud. Sophos's data protection solutions protect and encrypt all your devices and data without getting in the way. 
Sophos SafeGuard Encryption lets you manage your encryption – including the built-in BitLocker and FileVault encryption on Macs and PCs.
You can even stay protected at home.
We know your need for security and privacy doesn't end at the office door.
So we're proud to offer Sophos Home, a totally free, home-use version of our enterprise-grade endpoint security solution, so you can keep the whole family secure, whether they're on Macs or Windows computers.
What better day than Data Privacy Day to sign up for Sophos Home?
To learn more about how Sophos can protect the privacy and security of your data, devices, and users, visit sophos.com.