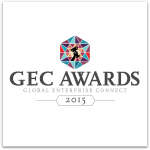 Recently we were honored to accept a big award: the Editor's Choice Award for Enterprise Security, presented at the Global Enterprise Connect Awards 2015, recognizing the top IT solutions and services vendors, distributors and resellers in the Middle East and Africa.
It's not unusual for us to earn this kind of recognition in the channel. We've taken home several big awards including: best IT vendor in all three security categories in CRN's Annual Report Card (ARC); security vendor of the year from one of our biggest partners in North America; and vendor of the year in enterprise mobility management at the Integrator ICT Champion Awards 2015.
What makes this award special is how it demonstrates the combined strength of Sophos and Cyberoam in the MEA region.
"Together Sophos and Cyberoam enjoy an entrenched presence across the MEA region, which spans across 45 plus countries. And to augment our expansion, we have a team of over 40 people dedicatedly working for the region, working closely with customers and partners," says Harish Chib, Vice President, Middle East and Africa, Sophos.
Sophos and Cyberoam are now one, and we've combined the best technologies from each company in our revolutionary next-gen firewall.
"What makes us different, is that now we can provide end-to-end solutions for our customers," Harish told Computer News Middle East. "People want solutions to be simple now, and with this partnership, our customers can get just that."
Partnering with Sophos