As I'm sure you know by now, this week we launched our new Sophos XG Firewall with Security Heartbeat.™ But you might be wondering: just what does XG Firewall include, and what other innovations does it offer? So I thought I'd give you an overview of all the exciting new bits and pieces.
To start, it's important to point out that XG Firewall is more than just a firewall product. It's an entire network security ecosystem.
XG Firewall Ecosystem
XG Firewall is our new firewall product that is available as a next-gen firewall or a UTM. It can be deployed as a hardware appliance, a software appliance on an Intel compatible server, or as a virtual appliance in your favorite virtual environment.
Sophos Firewall OS (SF-OS) is the new software platform that incorporates a fresh new user interface and a ton of innovative new technology that is the core of the XG Firewall.
XG Series hardware appliances come pre-installed with SF-OS. They are otherwise identical to the SG Series appliances (which come with UTM 9 pre-installed). They offer industry leading performance with the latest technologies like Intel multi-core architecture, solid-state drives and the latest connectivity options.
Sophos Firewall Manager (SFM) is the new centralized management console which provides a great solution for monitoring and managing multiple XG Firewalls.
Sophos iView is a brand new version of iView that provides consolidated reporting across multiple XG Firewalls, as well as Sophos UTM 9 or Cyberoam devices.
Remote Ethernet Devices (RED) provide a very cost-effective and simple way to extend your secure network to remote locations. A Sophos exclusive, they were introduced with Sophos UTM 9 years ago and also work perfectly with XG Firewall today.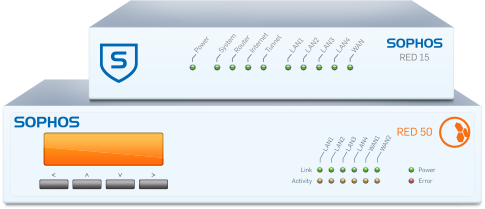 Secure Wireless Access Points make extending your secure network wirelessly a breeze with a full range of models to suit any environment with support for the latest wireless 802.11ac technology.
And if that wasn't enough, as you know…
Sophos Cloud Endpoint works perfectly together with XG Firewall to deliver the revolutionary Security Heartbeat, linking your firewall and endpoints for the first time to share information, improve protection, and provide a whole new level of insight and visibility into the health of your network.
XG Firewall Innovations
I think you'll agree that XG Firewall provides everything you need to provide a secure network for your business and protect it from today's modern threats. What's perhaps more exciting, however, is that it provides unprecedented insights and visibility into what's happening on your network.
That provides a nice segue into some of the great innovations in XG Firewall:
User-based policies are at the core of XG Firewall and have never been easier to manage. You can easily enforce application control, web filtering, IPS, and traffic shaping (QoS) for individual users or groups, with just a few clicks, and all in one screen.
User visibility also reaches new levels with XG Firewall with features like User Threat Quotient, which monitors every user's recent browsing behavior and ATP triggers to assign them a risk score from 1 to 100 and surfacing your highest risk users so you can easily deal with them before they get themselves infected.
Application visibility and risk also gets plenty of love in XG Firewall with some unique innovations like an all new app control engine, per-user or network policy app control enforcement, and even an application risk meter which provides an average score of the risk level for applications operating on your network, making it easy for you to know when stricter controls are required.
Business application policy templates also dramatically simplify the task of protecting common web services and applications such as Microsoft Outlook Anywhere, SharePoint or Lync.  Simply select the type of business app you need to protect from a drop-down list, and most of the rest of the policy is automatically filled in for you.
Unified policy management provides a single central screen for managing all your user, network and business application policies in one place, making it super easy to create, find, manage, and optimize your policies.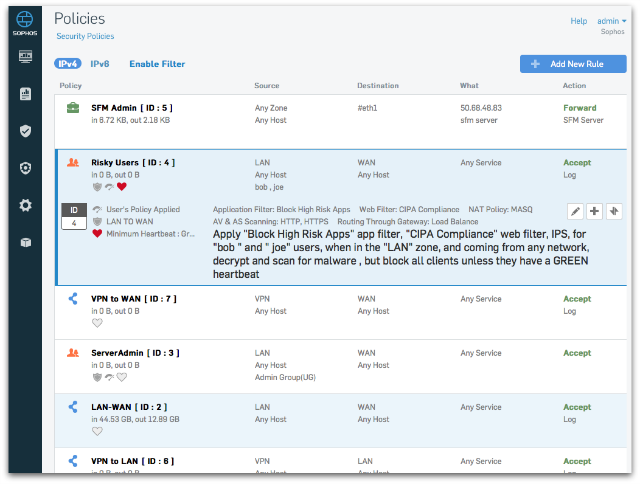 Performance also gets a boost across several areas of XG Firewall thanks to a dramatically improved proxy architecture, optimized next-gen IPS engine, and FastPath Packet Optimization.
These are just some of the many fantastic innovations in XG Firewall. In subsequent articles, we'll take a deeper dive into some of these areas to see them in action, discuss the benefits, and outline how you can make the most of them.