There's never been a better time to start a career in cybersecurity. At Sophos, we're working hard at educating young people in how to be security conscious, and encouraging young professionals to enter this exciting and rewarding field.
We're building the cybersecurity workforce of tomorrow with our internship, co-operative education and graduate programs, helping new workers and students to build their technical IT skills, or join the fight against cybercrime as sales, marketing, support or back office professionals.
This is the final week of Cybersecurity Awareness Month, with a focus on the need to overcome a shortage of cybersecurity professionals. If you're just launching your career and want to know more about working at Sophos, here's some helpful information about our internship and graduate programs.
Recruiting new workers in the UK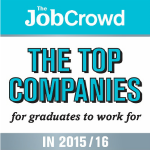 Our UK workforce development programs have been recognized by organizations like the Job Crowd and Rate My Placement as a top place for graduates and undergraduates to work.
We recruit top students for positions in engineering and marketing at universities like York University and Reading University. We hold events to tell students about interning at Sophos and the importance of cybersecurity, often attracting as many as 200 students. Current interns at Sophos help recruiters by answering questions from students. The next phase is a series of interviews, and some of those students will be invited to our Abingdon office for an assessment of their skills.
Students who come to our Abingdon headquarters get to meet managers, take technical tests (for engineers), and tour our beautiful campus. About 10 finalists will be welcomed to work at Sophos as an entry level employee for a year.
One of our recent graduate software engineers said: "There is room for progression within the company and you are supported along the way. As a new starter you are paired with a mentor, however, you are free to ask anyone in the team for help – everyone is friendly. There are no closed doors."
Recruiting new workers in France
Our office in France has recently implemented an ambitious apprenticeship program with Euridis, a leading business school in Paris. Sophos works with the French government to sponsor an apprentice scheme for recruiting students.
The flexible program allows students to work three weeks and attend school one week each month of their apprenticeship. The extensive program includes such subjects as economics and globalization, complex sales, management, business strategy, project management, marketing, web selling, data mining, business law and english.
Key to the success of this program is direct hands-on support and coaching from local management and Jérôme Lorber and Anthony Herbst from the Channel Distribution team, who are proving to be very effective tutors.
Sophos France has extended apprenticeships to two years so that students can complete an MBA while working with Sophos, co-financed by Sophos and with support from Fafiec. At the end of their studies, the Sophos apprentices will be able to apply for roles within Sophos France or go elsewhere to begin their careers. Internships are a great way of preparing the Sophos talent pipeline in the cybersecurity field!
Recruiting new workers in Canada
Sophos offices in Canada are recruiting both marketing and engineering students from Simon Fraser University, University of British Columbia, British Columbia Institute of Technology, and Willis College, for our internship and co-op programs.
Sophos Canada is also recruiting recent graduates. Sophos Canada recently hired several Technical Support Engineers from British Columbia Institute of Technology, and seven graduates from Willis College!
Recruiting new workers in Boston
Sophos kick-started an internship program this year in our US headquarters in Burlington, Massachusetts, just 10 miles from Boston. Interns learn on the job about professions including engineering, marketing, sales, and product management. Everyone receives mentorship and interesting projects to work on – one of our engineering interns this year worked on developing an Android application.
One intern said about their experience: "I learned more from lunches [with Sophos co-workers] than from any of my college classes. The breadth and depth of knowledge shared by Sophos employees made this internship one of the best educational experiences of my life."
Careers at Sophos
If you think Sophos sounds like a great place to work – you're right! To find out more about positions at any of our offices throughout the world, visit sophos.com/careers.
If you'd like more information about the graduate and internship program, please contact James Miller at james.miller[at]sophos[dot]com.
Lastly, if you're interested in keeping up to date with life at Sophos, follow us on LinkedIn and Twitter!