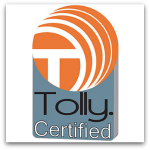 We've been saying it for years: simple security is better security. We design our products with the IT professional in mind, and the result of our efforts is the most usable security products on the market.
You don't have to take my word for it: independent testing house Tolly has just published a report comparing the ease of use of our endpoint products to that of our competitors. And the proof is plain for all to see – Sophos Endpoint Protection and Sophos Cloud require the fewest steps to deploy, manage and use.
The report compares Sophos Endpoint Protection managed by Sophos Enterprise Console and Sophos Cloud against on-premise endpoint solutions from Intel Security (McAfee), Kaspersky, Symantec and Trend Micro. It focuses on tasks related to three areas: deployment, management and visibility.
Overall, both Sophos products required fewer steps than the competing solutions to complete the different tasks (see table below).
While our products were much easier to deploy, the number of steps required for daily management tasks was also significantly lower than any other vendor.
In terms of visibility, the Tolly test looked at a single task of listing active protected endpoints. Tolly notes that Symantec admins are not able to take action directly from the list of endpoints. This requires an unnecessary amount of steps for even the most basic tasks. Kaspersky requires three clicks to just view a list of endpoints, and McAfee cannot list by status at all.
Tolly boils down their findings about Sophos in three bullet points, which say that Sophos endpoint security solutions are:
Easy to configure and deploy out of the box
Designed for rapid access to common management and visibility tasks
Better able to deliver pre-configured, ready to use security functionality than other tested solutions
What is the importance of usability?
This may seem obvious, but better usability means you can actually use a product and its features, and that's better for your security, productivity and your budget, too.
Anything that is easy to use saves you time compared to something that is complicated. In business terms saving time means you save money. The more features or components that you have paid for that you use means better value for money. Or in business terms, better return on your investment.
Usability also means there is less training required to use our products. Less to learn mean less time spent preparing, so you are protected faster. You are less likely to make mistakes and more likely to get it right the first time. Fewer mistakes mean you don't cause problems or downtime for the business, which in turn means increased productivity.
Perhaps most importantly, the difference between not using a security technology and actually using it is better protection.
According to the Tolly report: "Some solutions can be so complex to implement that features are either easily misconfigured or not used at all. The less effort involved, the more likely it is that the security features will be used and used correctly."
Simple security is better security. Download the free Tolly usability report to find out why Sophos has the simplest security products on the market. And if you're ready to try it for yourself, sign up for a free trial of Sophos Endpoint Protection today.