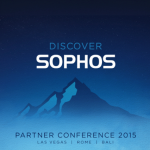 We recently wrapped up our annual Global Partner Connections conferences, and I wanted to share some of the highlights of the three events and some great feedback we received from partners.
Not only were this year's conferences – held in Las Vegas, Rome and Bali – the biggest partner events we've ever had, they also featured inspiring guest speakers and invigorating talks from our senior leadership, and we had a lot of fun, too!
The theme of this year's conferences was "Discover Sophos," with an emphasis on how we all can be disruptive pioneers, and achieve great things together.
Each conference featured uplifting talks by world-class mountaineers: at our Americas conference, we heard from Ed Viesturs; in Rome, it was Reinhold Messner; and in Bali the speaker was Peter Hillary. All of them have scaled Mount Everest at least once, among many other adventures and achievements.
The partner conferences are a great opportunity for our partners to hear about our vision and strategy, learn about our product roadmap, get technical and sales training, network through face-to-face contact with our team, and hear about our plans for partner growth and strategy.
Partners were also able to celebrate a successful 2014 by attending parties such as our SophStreet Live Party on Freemont Street in downtown Las Vegas, and an evening outing at Villa Aurelia in Rome. You can get an idea of how much fun everyone had by checking out the hashtag #SophosPC on Twitter.
Sophos Mountain Partner Team at #sophospc Fun Party! pic.twitter.com/JRNV1pfBGg — Dan Russell (@drussellpcc) April 29, 2015
There was a lot of positive feedback from everyone I talked to at our Las Vegas event, and the conference was brimming with excitement.
Sean Stenovitch, partner and owner at M&S Technologies, said this year's partner conference "blew away" his expectations.
"Between keynotes, breakout sessions, and networking with the Sophos team and other partners, we came away with a ton of new knowledge about Sophos's vision, strategy and product roadmap," Sean said. "From a technology standpoint, I was impressed by how Sophos is using the cloud and big data to deliver world-class threat protection. Plus, we had such a good time at the social events – Sophos knows how to put on a great event."
Over 1,200 partner representatives were able to attend our three global events this year, and next year we are expecting even more.
Sophos is becoming a disruptive leader in the IT security market, and our dedication to the success of our partners is second to none.
To all our partners, you can learn more about how to Discover Sophos by checking out our Partner Portal (login required), where you can find recordings of keynotes and breakout sessions, slides from the presentations, fun videos, partner award winners and an image gallery from the events.