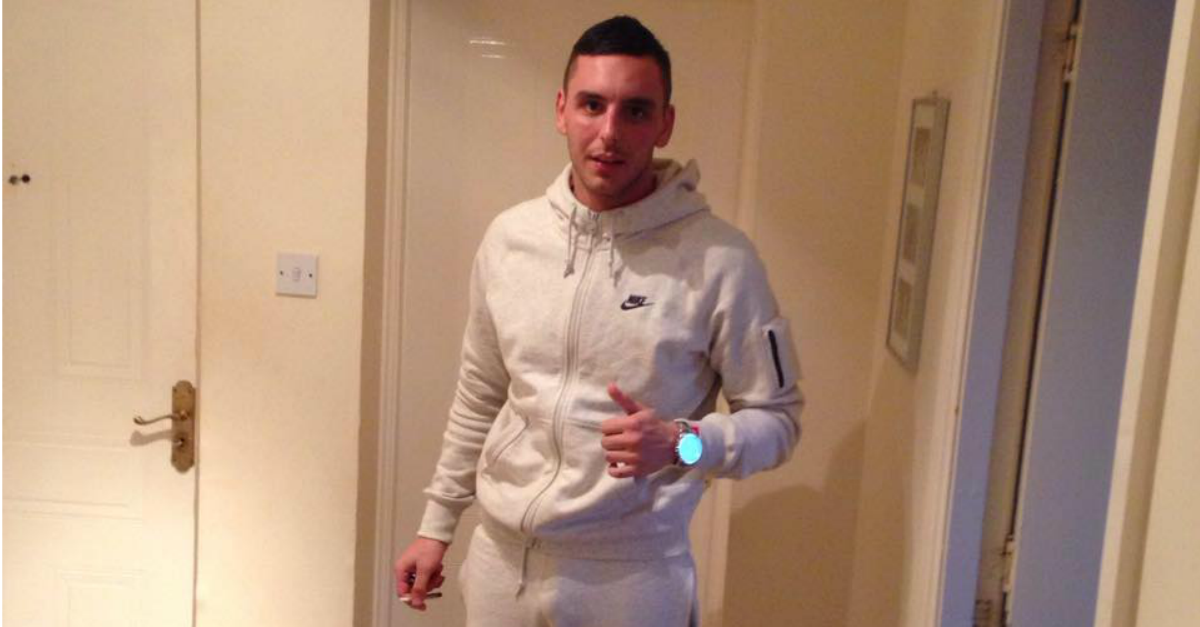 Here's a candidate for the Facebook Hall of Stupid Posts fame: a robber who, though he took the time to wear a mask to cover his face, then posted a thinly veiled confession online.
As the Edinburgh News reports, four masked men armed with an imitation gun and a hammer held up a bookmaker, Ladbrokes, on Portobello High Street on 2 March.
After the robbery, Gary Pacitti posted this lament on Facebook:
I love money, that's my problem.
The post contained an "ashamed" emoticon.
After she saw the red-cheeked post, Pacitti's sister asked him what he'd been up to.
His reply:
Ladbrokes Portobello.
Another thing: during the robbery, one of the masked robbers called Pacitti by name, reportedly saying:
Gary, this way.
Pacitti, who was unemployed, reportedly put on a hooded top and dust mask to disguise himself as he and his gang fled with £4100 (about $6400) and a watch taken from a manager.
Feeling guilty publicly, online, wasn't the extent of it, apparently.
Pacitti also mulled the caper on Facebook leading up to the crime.
The day before the robbery, Pacitti wrote this on his Facebook page:
Five year for a few grand – no thank you
He changed his mind about that one, obviously. He later followed up with this post:
feeling lucky
What a misplaced feeling. Particularly when you leave your DNA on your dust mask, plus on the gang's Audi getaway car – found abandoned near Danderhall – as Pacitti did.
Police arrested Pacitti on 9 March, after which he posted:
Looking at a nice 7 year . . . you win some, you lose some.
Going by the posts he's made since he was jailed at HMP Edinburgh, he's pretty happy, though:
Lovin life in Costa Del Saughton.
Pacitti, 21, was on bail, on a deferred sentence, under a drug treatment and testing order and a community payback order, at the time of the raid, the High Court in Edinburgh heard on Thursday.
Pacitti admitted to assaulting a man and robbing him of an Armani watch and money along with his gang.
Cash was taken from a safe and tills, but police haven't recovered the stolen goods.
Judge Lord Kinclaven deferred sentence on Pacitti for reports and remanded him in custody. He's facing sentencing at the High Court in Glasgow in July.
His three buddies remain at large.
Social media naiveté
And so he ranks right up there with other crooks who make the job of policing so much easier with their naive, completely misplaced trust in the supposed anonymity of social media postings.
For example, social media posting idiocy led to the largest gang bust in New York City history, when 103 gang members were indicted a year ago, thanks mostly to the evidence teenagers left on their Facebook profiles.
Then too, the "Catch me if you can" posts are their own sub-genre of crooks' idiocy, such as the Facebook post by a burglar that the police followed up on in five lickety-split minutes, or the Twitter taunter fraudster who got nabbed in Mexico after her nyah-nyah messages.
Or then too, there was the selfie-posting wanted man who took lots and lots of photos of himself gesturing at police, their cars and a police station, and then posted them to his 3395 Facebook friends with the misspelled hashtag of #theystillcarntcatchme…
It's wonderful that crooks are so obliging, helping out overworked cops in this way!
For the non-criminal among us, we should of course remember to lock down the privacy on our posts, lest our posts wind up being a lot less private than we thought they were when we posted them!
No excuse for not doing it – particularly not now, with a little blue dinosaur to help us on Facebook, plus a Facebook privacy policy translated into nice, plain English!

Don't forget, you can keep up with the latest Facebook-related news by liking the Naked Security page on Facebook.
Image of Gary Pacitti from Facebook