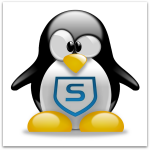 Recently we asked a bunch of IT professionals if they install antivirus on their servers. Their answers were quite surprising.
Out of 486 IT professionals we surveyed, only 284 (58%) said they run antivirus on both Windows and Linux servers.
The rest said they either don't bother with antivirus on Linux servers (34%), or don't run antivirus on any servers at all (8%).
Apparently, there are a lot of people who think they either don't need antivirus on their Linux servers because malware isn't a problem for Linux, or that antivirus will hurt server performance.
Unfortunately, they are wrong on both counts. Malware for Linux does, in fact, exist – cybercriminals frequently hijack Linux servers to spread their spam and malware. And with the right antivirus protection, performance won't suffer either.
Sophos Antivirus for Linux
One common objection to installing antivirus is that it can affect the machine's performance. Fortunately, Sophos Antivirus for Linux has a small footprint and minimal impact on system speed.
Basically, you won't know it's there – except, of course, when it detects and blocks a threat from infecting your machine or spreading to your users' workstations.
The best thing about it, Sophos Antivirus for Linux is available now for FREE. Go try it out.