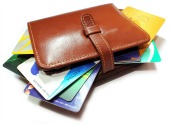 Romanian authorities have announced the arrests of 25 people in connection with a well-organised operation using cloned bank cards to withdraw cash from ATMs.
The gang is thought to have hauled in well over $15 million in closely synchronised cashing-out runs around the world.
Police searched 42 properties in 6 cities across Romania on Sunday and arrested 25 suspects, although the full strength of the gang is thought to be at least 52 people.
The group is suspected of being behind a spate of cashing actions in 24 countries around the world in 2013, making as many as 34,000 separate withdrawals.
In one operation, $9 million was withdrawn from ATMs in Japan in a single day using cloned cards.
In another, $5 million was grabbed from cash machines in 15 cities across Romania in 4200 withdrawals in one day.
With cashing operations limited by the amounts that can be taken out in a single go, and with banks quickly alerted by the unusual patterns of withdrawals, it sounds like they found some machines with fairly high limits – the numbers indicate each withdrawal would have been 5000 Romanian Leu, or around $1200 a time.
The banks affected are cited as being based in Puerto Rico and Muscat, Oman, hinting that the crew may be related to "number two" hacker Ercan Findikoğlu, last heard of late last year awaiting extradition to the US from Germany.
The timing of the cashing runs and the amounts taken also tally with those associated with Findikoğlu's alleged activities, thought to involve prepaid debit cards with withdrawal limits removed after payment processing firms in India were hacked.
During the raids in Romania, police seized laptops and phones thought to have been used in the criminal operation, along with gold bars weighing 2kg, works of art and 150,000 Euros in cash. They are also locking down real estate and other valuables thought to have been bought with the proceeds of the crime spree.
The scale and organisation of this gang make it unlikely that all participants have been rounded up, even after several years and a number of separate sets of raids and arrests which seem to connect back to the same operation.
So we can expect to see still more round-ups to come, not to mention the inevitably drawn out process of extraditions and trials.
With pan-continental operations like this, featuring suspects and victims from many nations, the logistics of finding and picking up those behind the crimes can get pretty complicated, but the legal stages still to come are inevitably even more involved.
Good luck to those around the world working on prosecuting the people behind this epic string of frauds and thefts – they'll certainly need it.
Image of wallet courtesy of Shutterstock.