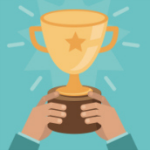 We were humbled to receive two great awards at RSA Conference in San Francisco this week – one recognizing our super-fast SG 230 firewall, and another award praising our best-of-breed Naked Security blog.
First off, we were pleasantly surprised at our booth by Rob Smithers, CEO of Miercom, who presented us with a Performance Verified award for our SG 230 firewall.
Miercom took our appliance through its paces last year and the test results were impressive.
On hand to receive the award were Caralyn Stern, Director of Marketing, Americas, and Brian Galgano, Sales Director. So, if you're looking to buy or are lucky enough to already have an SG 230 – you now have an award-winner in your rack!
@Miercom CEO Rob Smithers presented the @sophos_news UTM230 PV Award to Caralyn Stern and Brian Ganglo today at @RSA! http://t.co/IEwvCvC5U0

— Miercom Reviews (@Miercom) April 21, 2015
Then, at the Security Blogger Awards, our industry-leading Naked Security blog won a fifth award in the past five years, taking home Best Corporate Blog. Thank you to our reader and fans, and everyone who voted for us.
Great work @nakedsecurity and @sophos_news team for winning best corporate security blog at RSA blogger awards http://t.co/ig5n0c0l4O

— Chester W – Sophos (@chetwisniewski) April 23, 2015
By the way, we'd love to get your feedback on how we can make Naked Security even better – just fill in this form to let us know your suggestions. We'll choose 20 of you to get a prize – a snazzy Naked Security T-shirt – as a thank you.