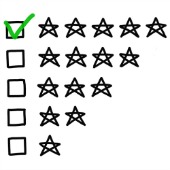 Both public and private organisations are gunning for online reviews, whether they're blatantly fake or just sweetened with undisclosed compensation.
Last week it was Amazon that sued sites selling fake reviews.
This week, it's the US government looking to hammer paid reviews – or, at least, those that are presented as unbiased but are coming with a price tag attached.
On Monday, the Federal Trade Commission (FTC) wrapped up a case against AmeriFreight, a Georgia-based broker for shipping cars, which had given customers a $50 discount if they agreed to review its services online.
Of course, the flip side of that was that AmeriFreight hiked the cost by $50 if customers did not agree to write a review, according to the FTC.
Customers who didn't agree to write a review on www.transportreviews.com, an independent website, were required to check a box on an AmeriFreight form saying that they agreed to be billed the extra $50.
AmeriFreight then touted those reviews on its site, saying that it received "more highly ranked ratings and reviews than any other company in the automotive transportation business."
In the finalized settlement, AmeriFreight and its owner, Marius Lehmann, agreed to stop advertising AmeriFreight services as being "top-ranked" or "highly rated" based on consumer reviews.
Its advertisements also encouraged consumers to:
Google us 'bbb top rated car shipping.' You don't have to believe us, our consumers say it all.
Those ratings also automatically enrolled the reviewers into a $100 per month "Best Monthly Review Award" for the most creative subject title and "informative content", the FTC said.
The FTC's complaint had charged AmeriFreight and Lehmann with violating Section 5 of the FTC Act by failing to disclose that they compensated consumers for the online reviews.
The company also deceptively represented its favorable reviews as being based on unbiased customer reviews, the FTC said.
The settlement doesn't include any fines. But it stipulates that future endorsers – including online reviewers – must disclose any "material connection" to AmeriFreight.
TransportReviews.com – the site that AmeriFreight encouraged customers to fill with reviews – now requires reviewers to disclose if they've received any incentives or compensation, by checking a box.
From its FAQ:
If you are submitting the review form for any reason other than because you are a nice person wanting to share your experience, you MUST check the box.

If a company tries to tell you not to check the box and tries to explain their incentive does not apply, please contact us to let us know. The company is likely asking you to break our sites policies and federal law.
Image of 5 star review courtesy of Shutterstock.