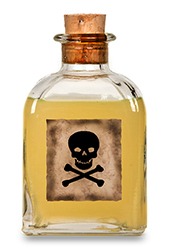 Many people use the internet to shop online and take advantage of low pricing, a huge amount of choice and greater convenience.
But not all online purchases are what we would consider to be mainstream – our previous stories about Silk Road and similar marketplaces demonstrate a darker side to the web where people can buy just about anything from drugs to the services of professional hitmen.
This shady part of the net – known as the dark web – has traditionally been out of bounds for law enforcement but, as the closure of Silk Road showed, that is beginning to change.
That was certainly the case when a 16-year-old boy from Manchester, UK, went looking for a deadly toxin and found the police waiting for him on the dark web.
Appearing before Manchester Youth Court on 8 April, the teenager pleaded guilty to attempting to acquire a biological toxin or agent contrary to the Criminal Attempts Act 1981 and section one of the Biological Weapons Act 1974.
The toxin in question – Abrin – is found in the seeds of the rosary pea and castor oil plant and, like ricin, is a ribosome inhibiting protein. It is considered 30 times more toxic than ricin.
Even though an earlier court hearing had been informed that a mere 0.05 milligrams of Abrin was sufficient to kill a human being, the boy's lawyer argued that he intended to buy 10 milligrams to commit suicide.
The case came about after law enforcement officers informed the North West Counter Terrorism Unit (NWCTU) that they were covertly communicating with the 16-year-old over the dark web, explaining that he had expressed an interest in purchasing the toxin.
The NWCTU was advised on 23 January that the boy was aware that the drug was highly toxic and could be used to cause massive harm.
The teen went on to place an order on 6 February and made it known that he was interested in purchasing subsequent larger quantities.
On 16 February, search warrants were issued and police descended upon two addresses in the Tameside area of Manchester. Two arrests were made, though a 16-year-old girl was later released without charge. The teenage boy is due to be sentenced on 20 April 2015.
Of course it's not only toxin-buying teenagers finding the police lying in wait on the dark web – in the recent past we've seen the likes of Silk Road wannabee Utopia shuttered within a week of opening after it was infiltrated by undercover agents.
And, in November 2014, we saw law enforcement infiltrate the Tor network as a prelude to a multi-nation take down of over 400 "hidden services".
While that sting, dubbed Operation Onymous, only netted 17 arrests, it does provide further evidence that police forces around the world are becoming increasingly proactive in their attempts to bring down the dark web from within.
Image of toxin courtesy of Shutterstock.