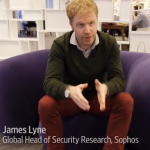 Who will cybercriminals target next? James Lyne, Sophos global head of security research, says gangs are creating new ways to attack ever more victims, and improving on the old ways to make more money.
In a new video from the Wall Street Journal, James sounds off on recent and emerging trends in cybercrime, and talks about what's coming next for security of the Internet of Things (IoT).
James talks about:
Ransomware gangs that make millions of dollars in bitcoins by taking files and networks hostage with file-encrypting malware – ensnaring home users, businesses and public sector organizations and demanding a ransom.
The Lizard Squad gang, which found new ways to attack big companies like Microsoft and Sony, by creating a weapon out of people's previously innocent home routers, and harming millions of users in cyberattacks that brought down networks.
The rapidly developing Internet of Things, which is what we call the millions of devices coming online – from security cameras and industrial systems, to connected homes and cars, and exciting and innovative new wearables like the Apple Watch. James asks, how will cybercriminals profit from next-generation IoT devices?
Check out the video to hear more from James and fellow security experts who were interviewed by the Wall Street Journal.
Keep up with security trends and news
Join the security conversation — learn more from our experts at an event near you.
Subscribe to our Sophos Blog and Naked Security for the latest news, research, expert opinion, tips and security advice.
And follow us on your favorite social media networks, chat with us in our forums, download our informative podcasts, or sign up for our RSS feeds.