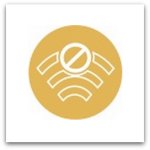 Always on the go, but need to stay connected? It might be tempting to log on to free open Wi-Fi networks at airports, cafes and other public hotspots. Don't do it – those networks offer no protection against hackers looking to steal your identity.
Sophos security expert James Lyne drove home that point on the TODAY Show, as he demonstrated how easy it would be for a cybercriminal to intercept communications on open networks to steal passwords and bank account details.
Just like his previous research experiments in cities like London and San Francisco, James set up an open Wi-Fi hotspot in New York City to see how many people would connect to his network. The results might surprise you.
In the course of a day, more than 2,300 New Yorkers connected to James's hotspot without knowing if he was out to do them harm. Even more shocking, 109 people agreed to pay $1 to $2 for the privilege, giving away their credit card information to a complete stranger.
Now, we all know that James is one of the good guys – his research is intended to raise awareness about wireless security, because so many people just don't understand the risks.
Those risks apply to businesses as well as consumers. If your company employees use open Wi-Fi to connect their work laptops and mobile devices to the Internet, just imagine what a hacker could do with access to your employee passwords – the keys to your kingdom.
You can't leave your users to fend for themselves. Businesses should keep mobile users safe whether they're in or out of the office. Endpoint security, encryption, mobile device management, and web security are all critical components of a comprehensive security strategy.
The risks are everywhere, but wireless security doesn't have to be difficult. Check out the video from the TODAY Show to see James's hotspot experiment and learn how to stay secure.
Wireless security tips for consumers
Stay secure when using Wi-Fi. Follow these 5 easy tips, and get more of our top wireless security tips at sophos.com/wifi.
Think twice before connecting to a wireless network. The best level of protection for a wireless network is called WPA/WPA2. Don't use WEP or Open networks.
Use a VPN (Virtual Private Network) to keep your connection encrypted.
Make sure you're using HTTPS or SSL when visiting sensitive websites such as your email or bank.
Keep your mobile devices and laptops secure – turn off connecting automatically to Wi-Fi hotspots.
Use an antivirus and always keep your computers, devices and software patched with the latest security updates.
Follow us!
Join the security conversation online — subscribe to the Sophos Blog and Naked Security for the latest news, research, expert opinion, tips and security advice.
Follow us on your favorite social media networks, chat with us in our forums, download our informative podcasts, or sign up for our RSS feeds.