We've recently added a couple of great new features to the Sophos Web Appliance. Enforcement of quota time policies is perhaps one of the most requested features of all time, and like everything else in the Web Appliance, you'll love how easy it is to manage.
We've also recently introduced Advanced Threat Protection (ATP) to quickly identify potentially infected hosts on your network before they can become more of a problem. These new features are included in the latest versions of the Sophos Web Appliance which you'll receive automatically during your specified update window.
Quota Time
Quota time allows you to create policies that limit the total amount of time users can spend on certain websites each day. For instance, you may want to limit access to personal website categories like shopping, chat or entertainment without blocking them completely.
Using the quota time feature, you can create policies for different users and groups, apply the quota action to categories or website tags, then specify how much time is available for browsing quota sites.
It's easy for users to interact with too – when they visit a quota site, they can choose to use all their quota in one go, or save some time for later.
You can read more about the new Quota Time policy option in the Release Notes.
Advanced Threat Protection
Another new feature in the Sophos Web Appliance is the addition of Advanced Threat Protection (ATP). ATP detects and lists machines on your network that have tried to contact malware command and control services, and gives you the ability to block and manage them.  In addition to advanced detection technology, there's a new dashboard widget and report to help you identify and isolate potentially infected systems on your network.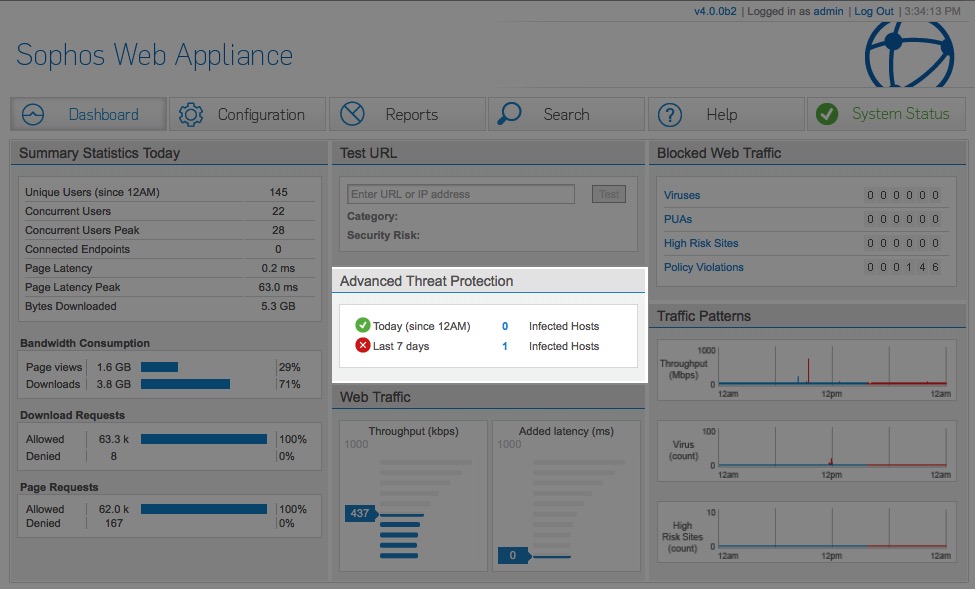 Learn more about ATP in the Sophos Web Appliance in the Release Notes.
Learn more about network threats.
Visit the Sophos Web Appliance Product page to learn more about how you protect your organization from the latest web threats, and get a handle on internet activity on your network.