From April 19th to April 21st, Sophos hosted its' Sophos Partner Connections EMEA 2016 in Cannes. This is the ideal event for our partners to discover the Sophos winning formula, with keynotes from our CEO and executive leadership team, as well as breakout sessions from our key business, product, technical, and sales experts. Partners were able to learn to understand the latest business opportunities within the IT security market-place and get equipped to take advantage of them.
Sophos Discover
Sophos Discover was, at is has been every year, truly the premier event for Sophos Partners in the EMEA region. With many partners congregated in a single place, the conference represents an irreplaceable opportunity to network, pursue new business leads, and learn best practices. But it was also a perfect moment for Sophos to award its' partners for the efforts they have made throughout the last year.
For Sophos Benelux this meant we got to award 5 of our partners in the Benelux region.
Sophos Netherlands Partner awards
Sophos Netherlands awarded two of its' key partners this year.
Sophos Partner of the Year – Netherlands: Improves BV
We congratulate our partner Improves BV, they won the award for the first time in their long-lasting relationship with Sophos. With an amazing growth in revenue, which we hope to see in the upcoming year as well, the achievement of Platinum reseller status and dedication, the award is well-deserved.
Sophos New Partner of the Year – Netherland: Atos Netherlands
Our other congratulations for the Netherlands go out to Atos Netherlands. They've been with us for just a short time but already this partner has shown great commitment, dedication and growth within a six month timeframe. We expect to celebrate a lot more successes with this partner in the time to come. Well done Atos!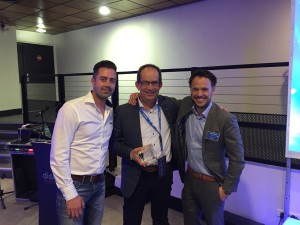 Sophos Belux Partner Awards
Sophos Belux awarded three key partners this year.
Sophos Belux Partner of the Year: Post Telecom NV/SA
This partner has been a very good and true relation of Sophos for some years now. In these years the joint business has evolved to a successful one. Post Telecom has managed to work its' way up the Partner Program ranks of Sophos to a Platinum Solution status within the course of a year and we are confident that we will be celebrating a lot more successes together in Luxembourg in the year to come. Congratulations Post Telecom!
Sophos Belux Synchronized Security Partner of the Year: Taktik SA
Taktik is one of the most loyal partners to Sophos. With us since 2004, this partner has shown great growth and commitment towards Sophos these past years. With the arrival and launch of Security Heartbeat, they were amongst the first to sell this new feature of Sophos. Enthusiastic as always, we were more than happy to award Taktik SA with this well-deserved award.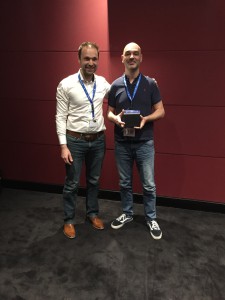 Sophos Belux Distributor of the Year: Exclusive Networks
Last but certainly not least, Sophos Belux would like to recognize its' distributors. We wouldn't be able to uphold our 2-tier Channel first model without our distributors. Over the course of the last year this distributor has shown to be more committed than ever to Sophos. Joining forces on several marketing events and campaigns and always ready to push that extra bit harder. It's with great pleasure that we are happy to give them the award for the second year in a row: Congrats, Exclusive Networks.
These were our winners for this year. Once again, on behalf of the entire Sophos Benelux team we would like to extend our thanks to these winners for their commitment and hard work. But of course all our partners deserve the thanks and recognition for the efforts you make for Sophos throughout the entire year.
Here's to our joint successes and hard work and here's to another great year to come!