Festive re-opening of Sophos BeNeLux office
Sophos will be celebrating its 30 year anniversary this year. A year that will be full of new and exciting product launches, a year with promising successes in both BeNeLux and across its borders. Suffice it to say that it has been an amazing year for the BeNeLux team at Sophos. With outstanding growth figures, the number of certified and active resellers on the rise and, since the beginning of March, an entirely refurbished office, we are ready for another great fiscal year at Sophos.
For the occasion of re-opening our office, we had invited our regional VP Western Europe, Christian Pijoulat, our colleagues from the UK and of course our resellers and distributors to join us for a nice drink and some snacks. We welcomed close to 30 attendees at our new office in Oosterhout. Here's a short impression of how the day passed on:
Our regional VP Western Europe joined us for this festive occasion.

A view of the new entrance at our office in Oosterhout.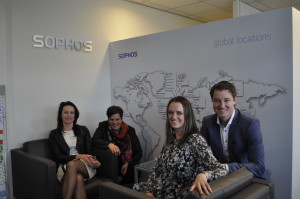 A very special thanks goes out to Caroline Monden, who supervised the entire refurbishment of the office in the Netherlands. And not to forget Danielle Meulenberg and Patricia van Giessel for organizing the re-opening event with our partners and distributors.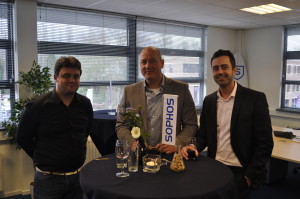 A toast with the entire Sophos BNL team, some of our resellers and our distributors.
We're looking forward to the time to come in our new office at Oosterhout and of course what the coming year has in store for us!
Want to pay us visit? You'll have to make an appointment with one of our team members.