Today we're excited to announce that XG Firewall, our flagship next-generation firewall, joins Sophos Central, the ultimate cybersecurity management platform in the cloud. Sophos customers can now manage their XG Firewall and Intercept X, alongside their Sophos Server, Mobile and Encryption products – all from a single pane of glass.
This marks the first time that an industry leading firewall product and an industry leading endpoint product are managed together from the same console. And it really couldn't come at a better time, with dangerous and sophisticated threats like Emotet threatening many organizations with hundreds of new variants every day.
These advanced threats demand a coordinated defense, with multiple layers of security technologies working together to identify, block, and isolate the attack at several points in the chain. This prevents the threat from getting any kind of foothold on the network and spreading laterally.
Sophos Synchronized Security and Security Heartbeat™ provide the ideal solution to identify and respond to threats like Emotet.
Leveraging the latest advanced threat protection technologies and sharing important health, status and telemetry information between XG Firewall and Intercept X, Synchronized Security can see it, stop it, and secure it – before these threats can cause any damage. It's what I like to refer to as an unfair advantage.
With XG Firewall joining Sophos Central, Synchronized Security just got another unfair advantage when it comes to staying ahead of both the hackers and their latest threats.
Not only do you have a coordinated defense, but you also now have the full benefits of a completely integrated management experience.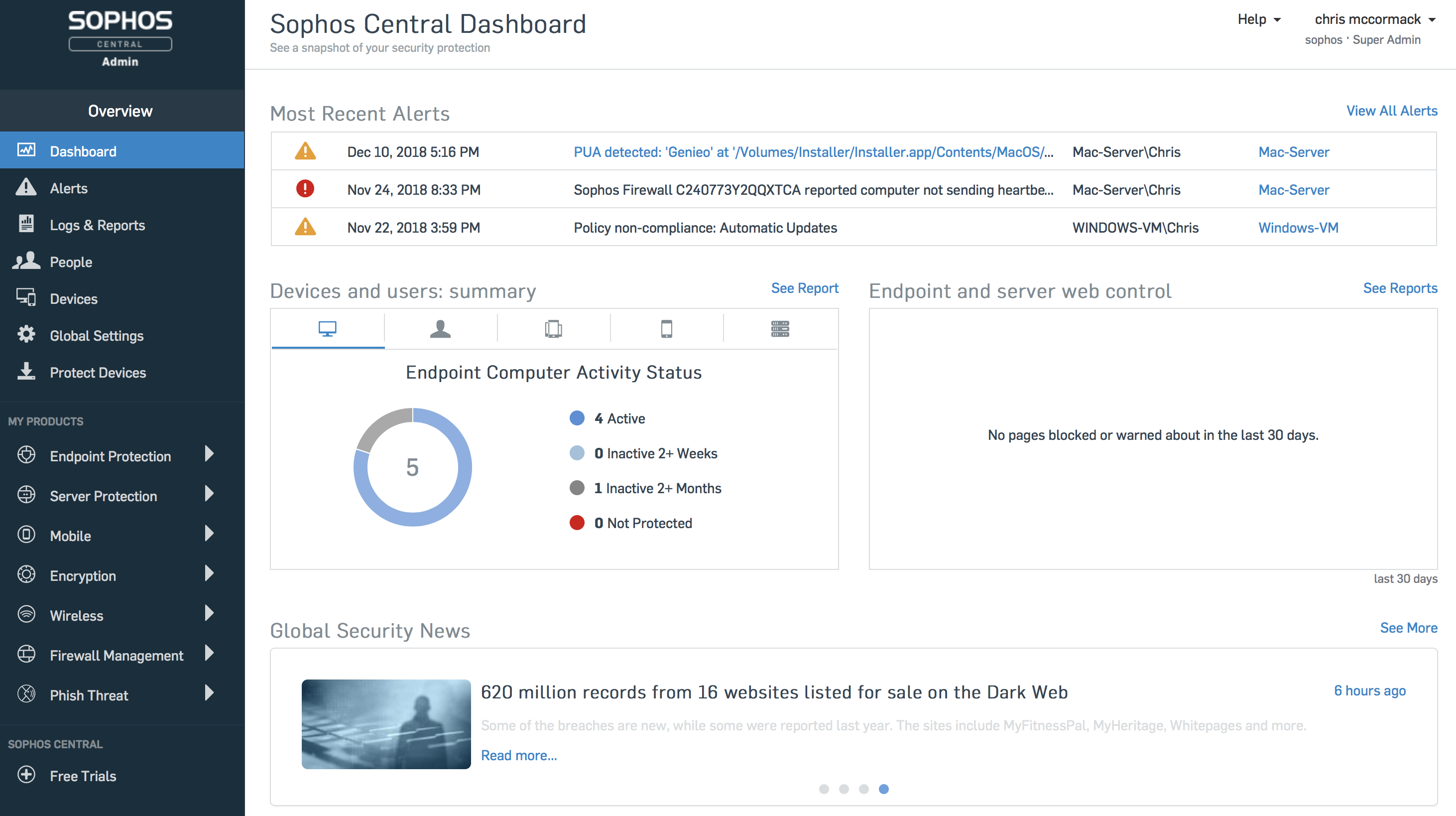 XG Firewall joining Sophos Central offers great benefits for everyone
If you're an existing Sophos Central customer:
If you're using Sophos Central to manage Intercept X or any other Sophos product, you'll be familiar with the convenience and ease of managing your IT security through Sophos Central. But now it's time to synchronize your security.
You can add an XG Series appliance to your network to enable Synchronized Security and unlock the full potential of an integrated security system – easy and risk free. You can manage it in Sophos Central alongside your other Sophos products, and you don't even need to replace your existing firewall. Check it out.
If you're an existing XG Firewall customer:
You can now monitor and access all your firewalls securely through Sophos Central – all at no extra charge. Take advantage of the Sophos Central dashboard view for your firewalls, and you'll get enhanced alerting options as well as direct access to any of your firewalls with a single click. And now you can add Intercept X to your endpoints to enable Synchronized Security, and manage everything from the same console. Check it out.
If you're new to Sophos:
XG Firewall and Intercept X offer the ultimate protection from today's advanced threats. Synchronized Security provides a coordinated defense that enables our products to work better together and share information through Security Heartbeat™. And you can now manage everything through a single, easy to use cloud-based console: Sophos Central. Check it out.