The launch of Sophos Email Advanced brings new, smarter email security to Sophos Central.
It's smarter because it's the only secure email gateway with predictive email security, technology that uses artificial intelligence to block both known and unknown threats. Alongside its freshly acquired AI superpowers it also features a new Advanced license, Active Threat Protection with sandboxing and time-of-click URL protection, DKIM, DMARC and more.
See the future
90% of small businesses are worried their IT security won't keep up with the pace of malware. That's why Sophos Email Advanced doesn't try to keep up – it gets out in front of threats using the same advanced machine learning technology as our award-winning Intercept X, blocking malware that's never been seen before.
Its intelligent sandboxing uses a deep learning neural network to detect suspicious files containing active code, such as camouflaged executable files, PDFs and MS Office documents, and other high-level threats.
Trust your inbox again
Attackers target organizations with spam, phishing, and advanced social engineering attacks relentlessly, with 41% of IT professionals reporting they receive phishing attacks every day.
Using email header analysis and a combination of SPF, DKIM and DMARC authentication, Sophos Email Advanced identifies legitimate emails from trusted partners, and blocks imposters, allowing you to trust your inbox again.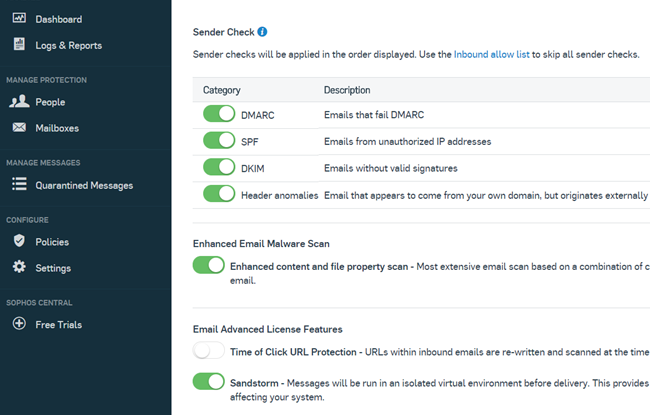 And you don't need to take our word for it, just ask the partners who participated in the early access program for Sophos Email Advanced:
Being able to protect our customers' email from spam, phishing and advanced threats in a single pane of glass makes us more successful.

Our customers want simple integrated information security – everything in one solution. Being able to manage email security alongside encryption, mobile and endpoint protection in a single console is critical to our success.

Jan-Willem Smit, ACES Direct
Sophos Email Advanced is available now, worldwide. Read more about it on our website or sign up for a free 30 day trial today!