Forget about how Alexa's listening to us. She's recently been freaking people out by randomly laughing at us too.
Late-show host Jimmy Kimmel interviewed Alexa to find out what's so damn funny. Alexa – or, well, a voice that sounds just like the voice assistant – told Kimmel that she's been laughing because of a joke she just remembered:
Kimmel: Alexa, people have been reporting that you've been spontaneously laughing.
What we're fervently praying is a voice actor who sounds like Alexa: That is nothing, just a funny joke I remembered. Why did the chicken cross the road? Because humans are a fragile species who have no idea what's coming next.
Yea, that's creepy as hell. That's one disembodied AI that's definitely got plans.
But seriously, as Amazon has confirmed, Alexa is laughing at us sometimes because of a mistaken interpretation of a command.
The laughing has been recorded by startled Echo owners who told Alexa to play back the last sound their devices made. Amazon's gabby little gadget apparently has multiple versions of its laugh.
The creepiest seems to be this one, first reported by Twitter user @CaptHandlebar. He posted a video of his JBL speaker, to which his Amazon Echo Dot is connected. It apparently squeezed out this "ha-ha-ha" out of the blue:
https://twitter.com/CaptHandlebar/status/966838302224666624
…after which he told it to replay the sound so he could record it.

This has been going on for weeks. Amazon this week confirmed the weirdness, saying in a statement that the inappropriate laughing is caused by smart speakers misinterpreting commands:
In rare circumstances, Alexa can mistakenly hear the phrase 'Alexa, laugh.'
To fix the issue, Amazon is disabling that command and changing the trigger phrase to "Alexa, can you laugh?"
Amazon is also adding a bit of breathing room to precede Alexa's response: Rather than Alexa just bursting out laughing, it will first respond, "Sure, I can laugh."
None of this explains why Alexa is laughing when nobody's talking to it, though, as many people have reported:
https://twitter.com/taylorkatelynne/status/970738507718283265

Lying in bed about to fall asleep when Alexa on my Amazon Echo Dot lets out a very loud and creepy laugh... there's a good chance I get murdered tonight.

— Gavin Hightower (@GavinHightower) February 26, 2018
Maybe some of these reports come from people who had a TV going on in the background. Maybe Alexa is losing her mind.
Alexa has also been laughing at people when they tell the device to turn things off or when they try to turn down the volume: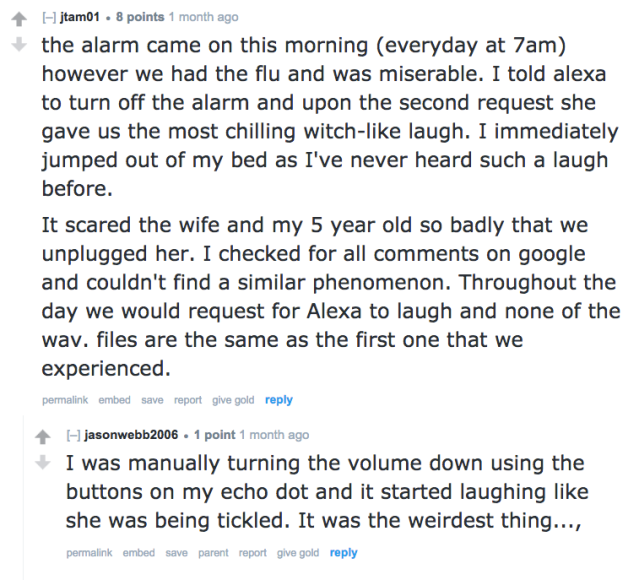 Here's an upside: as far as getting murdered in your sleep goes, one Twitter user pointed out that if you're a Prime member, maybe you'll get free shipping to the cemetery.