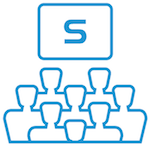 Today, we are excited to launch the Sophos Certified Administrator training program.
Open to all customers, this new certification offers you complete training on Sophos products. You'll have the opportunity to learn about the full range of features, and how you can harness these to get the most out of your product.
Training can either be completed as e-learning, vouchers for which can be purchased from your partner, or in a classroom via our network of Authorized Training Centers. You can find your local Authorized Training Centers from the Partner Locator or by emailing us at globaltraining@sophos.com
The e-learning courses are easily accessed through the Sophos Training Portal using your Sophos ID login, so you can carry out your training whenever and wherever you have internet access.
We are currently offering courses in Enduser Protection. XG Firewall training will be arriving later this month, and training on all other products will follow very soon.