A young woman in Sydney has become a social media darling after she politely wrote in to police via a news station's Facebook page, asking that they please use a prettier picture on their "Wanted" notice.
Amy Sharp, 18, had allegedly broken out of a police station on 19 August having been arrested for property offenses.
Police did what they typically do: issued a statement, accompanied by two photographs they'd taken of Sharp, in a bid to find the teenager.
Mugshots aren't generally the most flattering photos. In hers, Amy's shoulders were draped in a red blanket. She looked a bit bedraggled, with wisps of hair escaping from her up-do, wearing a glum expression.
The photos, along with the police statement, were posted to Sydney's 7 News Facebook page last week.
The first comment on the post was this one, from the escapee herself: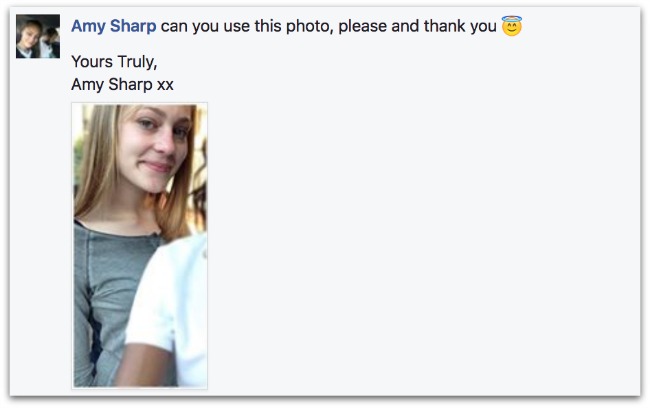 can you use this photo, please and thank you
Yours Truly, Amy Sharp xx"
Amy's comment was accompanied by a smiley emoji wearing a halo, and her post was accompanied with a far more flattering photo of a smiling version of herself.
As of Wednesday morning, it had received over 67,000 likes.
After a mini-blizzard of enthusiastic emojis posted as replies to her Facebook request came an update from 7 News Sydney: 8 days after Ms. Sharp allegedly fled, she was arrested, in a park near the jail.
We usually give a little cheer, on the behalf of police, when crooks make it easier to identify and track them down through their social media posts.
In this case, there's no indication Amy Sharp gave away her location by posting her selfie where police could find it and glean its location data in order to track her down.
We have, however, reported on a plethora of crooks doing dumb, incriminating, and/or hideaway-revealing things with social media – notably with selfies.
Like, say,
Image courtesy of NSW Police / Facebook