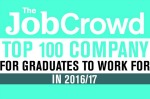 Three years in a row, our graduates and interns have voted us as a top employer in The Job Crowd's survey of the Top Companies for Graduates to Work For (Smaller Intake).
This year we rose to 40th on the list – more than 15 spots up from last year – beating out many household brands! Plus, we were ranked number 5 in the IT Development and Consulting sector of the survey. We're really grateful for the recognition and excited to see the impact we are making for our interns and graduate employees.
We partner with universities to find amazing talent for both our intern positions and junior positions which are perfectly suited for new graduate hires. Intern programs vary globally, with some lasting a year and others just a summer. But what is key to all our interns' experiences is real-world, portfolio-building projects that make an impact for the business and the security industry at large.
One graduate software systems developer had this to say about us in his review, "Challenging and enjoyable work. Enthusiastic team mates. Great working environment. Ability to work with a wide variety of different technologies. Building innovative solutions to complex problems. Working in the security industry is fulfilling and interesting."
Sophos is a world leader in the security industry, creating the simplest security technology products to protect more than 100,000 small and medium customers globally. We certainly couldn't deliver without top talent and our new graduate hires are some of our best.
Interested in going to work putting hackers out of work? We are hiring. Check sophos.com/careers for our available positions. You can also connect with us through LinkedIn, Twitter and Facebook.