Professional gamer Erik Flom was playing a game of Counter-Strike on the live-streaming site Twitch when something unexpected happened.
His screen suddenly went black and then blue, as his PC began automatically configuring an update for Windows 10.
With thousands of followers watching, Flom reacted how you might expect – with disbelief and a blue streak of cursing:
What. What? How did this happen! F*ck you Windows 10! Oh my God! You had one job PC. We turned off everything. Update faster you f*ck!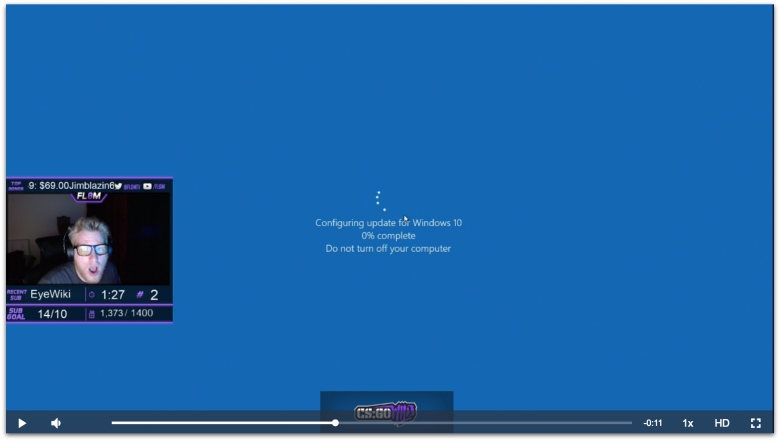 A video clip of Windows 10 "poop[ing] on" Flom's livestream went viral after it was upvoted over 5000 times on Reddit.
Microsoft has been taking a lot of heat over its efforts to get people to upgrade to Windows 10, most recently after an upgrade message interrupted a live TV news broadcast.
As Flom's mishap shows, even once you have Windows 10 installed, automatic updates can cause some grief as well.
In Microsoft's defense, it's understandable why Redmond wants to force you to install updates in Windows 10.
Unfortunately, cyberattackers don't need to rely on zero-days, where a security patch isn't available, because so many users remain unprotected against security bugs with fixes that are available – and have been for weeks, months, or even years!
The Conficker virus, for example, began spreading a month after Microsoft had provided a patch that would have kept people safe, but Conficker nevertheless went on to infect more than 11 million PCs.
More recently, SophosLabs research has found that cybercrooks using maliciously crafted Microsoft Office documents to spread malware are primarily exploiting security holes that have had fixes available for a very long time.
Even worse than failing to apply security updates when they are available are the millions of people who are still running Windows XP, which has been out of support for two years – XP users will be vulnerable to "zero days forever."
Unfortunately, these out-of-date PCs are not only security risk to the users themselves, but to the rest of us as well.
Microsoft may not be the best at communicating the message, but it really is a good idea for everyone to have auto-updates turned on by default.