It's time for you to take some credit. As you know, every day at Sophos, we're constantly striving to build the best firewall products for you: our partners and customers. It's your support, input and involvement that ensure we're consistently delivering tremendous value with superior protection that's easy to manage.
Let's face it, every once in a while, it's really great to get a bit of recognition from respected industry experts. So I'm delighted to share that both our SG UTM and new Sophos XG Firewall have received awards from SC Magazine and PC Pro Magazine respectively.
It's a great reflection of our continued investment in both product lines to make them the best that they can be – none of which could be possible without you.
SG UTM wins Excellence award
SG UTM recently took home the prestigious SC Magazine award for Excellence as the best UTM Security Solution at the SC Awards 2016 in North America. SC Magazine noted that:
Sophos SG Series UTM proved its ability to execute comprehensive security measures to protect the enterprise from data-stealing attacks
This means that SG UTM is now recognised as the best UTM in both North America and Europe after winning the same award at the SC Awards 2015 in London last year.
XG Firewall awarded 5-Star A-List rating
In case you missed it, Sophos XG Firewall is our new firewall platform released in 2015. It combines some of the great technology from SG UTM 9 with a variety of new technology including support for the new Sophos Security Heartbeat™, a new look user interface, improved user-based policies and reporting, and much more.
XG Firewall XG 135w has been awarded a 5-star A-List rating in this month's edition of PC Pro Magazine after an in-depth review. PC Pro really put the box through its paces and it performed extremely well, with the reviewer ultimately concluding:
A highly versatile UTM appliance combining top performance with stunningly good value.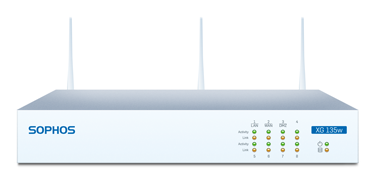 They also spent considerable time with the new user interface noting:
The new web console is a pleasure to use, and opens with a complete overview of all network activity and security issues.
Its Security Heartbeat feature sends all endpoint activity data to the appliance… the clever bit: we could specify that our security policies should require a minimum heartbeat condition.
Other notable comments include:
Security policies are simple to deploy.
We were impressed by its controls for users and groups.
Remarkably high UTM throughput of 1.4Gbits/sec.
Check out the full review here.
In case you were wondering, XG Firewall comes pre-installed on XG Series appliances, but existing customers can also upgrade their SG Series appliances.
We're very proud of this achievement for XG Firewall and would like to take this opportunity to thank our incredible partner and customer base for their ongoing support and feedback.  Thanks to everyone – inside and outside of Sophos – who make what we do possible.
Read what independent reviewers think about Sophos XG Firewall with Security Heartbeat or watch the video below to see how it works.