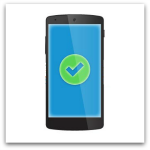 Today, every business is mobile. Across enterprises of all sizes, everyone from entrepreneurs and executives to knowledge workers needs to get online and access business data and files using smartphones, laptops and tablets.
Employees using their personal devices to access corporate applications and data can put their organizations at risk when they lose or misuse their devices. In addition, cybercriminals are capitalizing on these trends by building mobile malware to infiltrate networks and steal data. Mobile risk is on the rise.
For IT security teams, this new reality creates a daunting challenge. You must manage this increased risk while at the same time empowering users and respecting their privacy.
In order to help you meet this challenge, Sophos has created a new guide to setting priorities that allow you to provide flexibility, but also protect your networks and corporate data. Our free whitepaper 3 Steps to Securing the Mobile Workforce lays out a simple approach for organizations to successfully secure their mobile workforce.
The task of enterprise mobile security really boils down to three basic needs:
Protecting the user and device
Protecting access to the enterprise network
Protecting enterprise data
And of course, most importantly, you need an easy-to-use solution that lets you accomplish your goals with available resources.
Download the free whitepaper 3 Steps to Securing the Mobile Workforce to see how you can empower your workforce and boost productivity, while keeping corporate data safe.
Sophos Mobile Control
Sophos Mobile Control is the simplest way to enable secure mobile productivity and collaboration for your business. Sophos Mobile Control is a complete stand-alone mobile security solution, while also integrating directly with Sophos UTM and Sophos SafeGuard Encryption to deliver the most comprehensive mobile protection available on the market today.