Chances are, you're pretty savvy about technology, computers and security (you're reading Naked Security, after all).
You know all about the web threats, online scams, and privacy pratfalls that await less-knowledgable people at every turn; you're capable and keep your computers and devices up-to-date and secure as best you know how.
Because of this, your friends, family and co-workers probably come to you for troubleshooting problems.
Sure, you're happy to do it, most of the time. But there are a lot of people counting on you.
Not long ago we asked how much extra work home IT heroes like you are doing for the people in your life, and who you're most worried about when it comes to keeping them safe.
Now, the results are in.
Home IT heroes are taking care of a lot of people – 43% said they're watching over between three and five people and another 16% said they're looking after between six and ten people!
And the people home IT heroes are most worried about?
Parents, followed by friends (under the "other" column, many also commented that they're worried about the in-laws, too).
If you're a home IT hero, you're not just worried about protecting the people in your home, like significant others, spouses or your kids. You've got to look after people who live all over the place, too.
Friends, neighbors, parents, grandparents … how can you keep track of them all?
Sophos has the answer in the new(ish) free tool, Sophos Home.
With Sophos Home, you can protect the PCs and Macs of everyone you look after – up to 10 in all – from a simple web-based console that's a snap to use.
All you need to do is sign up for an account, download Sophos Home on to your own computer, and send a link to the people whose security you're going to manage.
Once they download Sophos Home, their computer is connected via the cloud to your Sophos Home account, and you can manage their security from the Sophos Home Dashboard, using any web browser.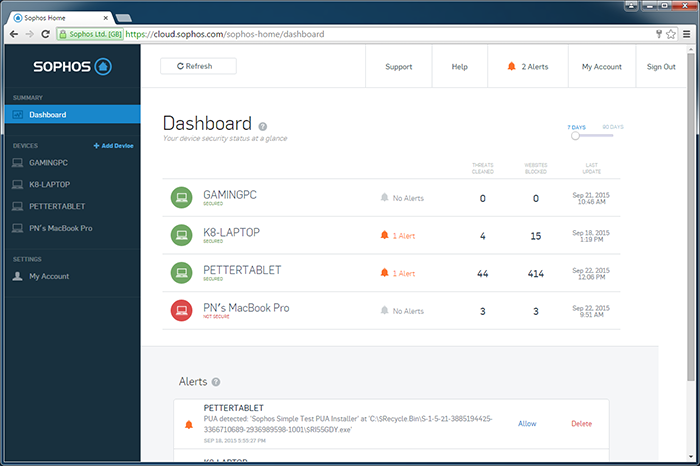 If mom or dad inadvertently downloads malware from a dodgy email attachment, or gets hit by drive-by malware when surfing the web, they'll be protected automatically.
If it's the kids' computers you're protecting, built-in web filtering software allows you to select categories of websites to block, such as adult content, gambling, drugs or violent websites.
You'll see an alert in the dashboard about cleaned threats and blocked websites – plus any "potentially unwanted applications" (PUAs) like adware, which you can Allow or Delete.
There's no time limit – your free Sophos Home account will never expire – and you won't be bugged with "nagware" asking you to upgrade to a paid version.
With Sophos Home, you have nothing to fear, home IT heroes, and much to gain.
Try out Sophos Home today.
Image of hero courtesy of Shutterstock.com.