Police in Germany created a viral hit this week when they put out an urgent appeal for people to stop stripping children of their privacy.
The appeal, from police in Hagen, was posted, appropriately enough, on Facebook.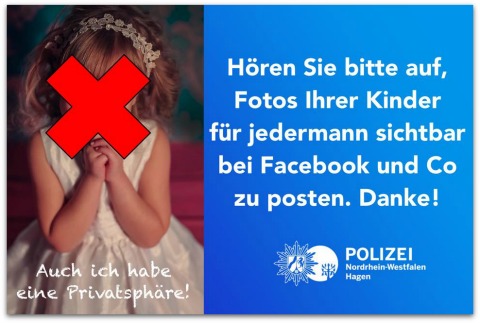 It was first posted on Tuesday, and by Friday morning, it had been shared by more than 245,000 people.
In the post, Hagen police noted that people freely post onto Facebook pictures of children nude while in a pool or at the beach, as if there were no consequences for posting such images.
From the translated post:
Maybe you find the photos sweet today, but your child will find them endlessly embarrassing in a couple of years. Or your child will even be bullied. Even worse: a pedophile could use such photos for their purposes, publishing them elsewhere.
We already know that the average parent is like a loving but voracious paparazzo, uploading an eyeball-popping 973 photos of their child on social media by the time he or she reaches the age of 5, as online safety site The Parent Zone has reported.
We applaud Hagen police.
At Naked Security, we often point out, to all the oversharing parents out there, that posting photos of children is not necessarily safe behaviour – particularly when photo-posters are oblivious to privacy controls.
In fact, The Parent Zone study – done on behalf of safety campaign knowthenet – found that 17% of parents have never checked their Facebook privacy settings at all, while almost half (46%) have only checked once or twice, despite Facebook being the number one spot for sharing kid pics.
Look, we know that you very likely know how to set privacy controls on Facebook. We're preaching to the choir when it comes to readers of security blogs – many of you refuse to have Facebook accounts to begin with.
So do the kids in your life a favor: the next time you see images of some bare-bottomed tot being posted far and wide, don't just look away.
Don't tell the poster that the kid is adorable.
Instead, get stern.
Educate your peeps. Tell them what apps and sites their kids should steer clear of.
Definitely point them to our tips on how to make their Facebook account safer.
And by all means, please do point them to Facebook privacy controls.
Who knows? Maybe that little blue privacy dinosaur Facebook came out with last year can save kids from future harassment and abuse.
Image of kids courtesy of Shutterstock.