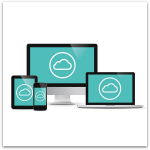 Corporate end users (including you and me) are super productive when we use multiple devices – laptops, tablets, smartphones – so we can keep working wherever, whenever. These devices are convenient and portable, allowing us to connect from coffee shops, airports, hotels and at home.
Unfortunately, cybercriminals are taking advantage of the fact that it can be difficult to secure highly mobile, always connected end users.
IT professionals know that they have to secure all these devices, and offer secure web access from anywhere. The solutions are out there, such as enterprise mobility management (EMM), mobile security, endpoint security, and secure web gateways.
Unfortunately, these so called best-of-breed solutions add complexity at best; in the worst cases, a mix of different products from different vendors can lead to inconsistent protection and security blind spots. And that's exactly what the cybercriminal is hoping for.
Integration is the new best of breed
At Sophos, we're creating comprehensive protection in Sophos Cloud by focusing on the end users, not their devices. With this user-centric approach, our customers can protect users on any device, with next-gen endpoint security, web gateway, mobile device management and mobile security. And Sophos Cloud is simple to deploy and manage from a single, unified web-based console.
You can manage Joe or Jane's security via consistent, user-centric policies that follow them across any device, on and off network. And you can get reports on a per-user level as well so you know whenever a device is out of compliance. Security policies will be consistent and tamper-proof.
Comprehensive yet modular
While the solution is fully integrated, you can still deploy Sophos Cloud in a modular way. For example, if you currently have Sophos Cloud Enduser Protection, you can add on a trial license of Sophos Cloud Web Gateway, directly from your management console. It's completely free for 30 days.
Whatever level of protection you choose (endpoint plus web and mobile or other combinations), all of these security solutions work automatically together for holistic and advanced end user protection.
To learn more about how Sophos Cloud protects your users everywhere, watch the video below and visit sophos.com/cloud. Or sign up for a free 30-day trial right now.