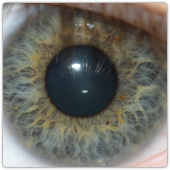 A press release just issued by SRI International suggests that future Samsung mobile devices may be moving towards iris recognition for biometric authentication.
Details are scant, but the gist of the release is that SRI has just concluded an exclusive licensing deal for its Iris on the Move (IOM) technology with Korean electronics giant Samsung.
SRI was originally called Stanford Research Institute, and is a spin-off from the prestigious Stanford University.
SRI is perhaps best known in recent times for a spin-off of its own that was named after it, at least phonetically: Siri.
Siri – amusingly, an anagram of Iris – was bought by Apple in 2010, and is now the core of Apple's dictation system on OS X and iOS.
Unsurprisingly, Apple's acquistion of Siri brought development of the Android and Blackberry versions of the product to a halt.
Now, it seems, SRI has a foot back in the Android camp following the announcement of this agreement with Samsung.
IOM's debut
The IOM system will debut to the mobile market, says SRI, in a customised Samsung Galaxy Tab Pro 8.4 tablet.
Interestingly, the marketing photo in SRI's press release suggests that the first outing of iris recognition will not replace fingerprint reading as a means of letting you log in to your own device.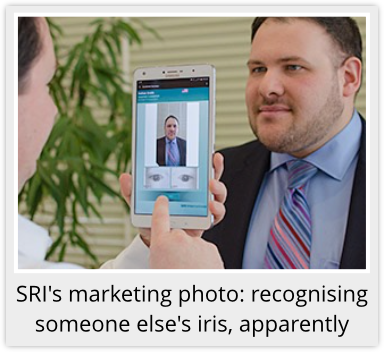 The photo shows the user of a mocked-up tablet pointing the rear-facing camera at someone else's face from about 30cm away, rather than looking into the device's front-facing camera herself.
The tablet's screen shows an image of the target, with zoomed-in details of his eyes underneath.
In other words, it looks as though the primary application will be to help security staff identify other people, much like an Automatic Number Plate Reader (ANPR) camera identifies passing vehicles.
How it works
Iris recognition uses an image of the surface of the eye, analysing and classifying the image based on the appearance of the iris itself.
The iris is the pigmented part of the eye, responsible for controlling the diameter of the pupil and thus the amount of light entering the eye.
Like a fingerprint, each iris is supposed to be unique in respect of the patterns in it, so with enough detail, an iris "eye-print" ought to be a strong identifying factor.
Indeed, SRI claims, though without linking to any evidence, that its "purely iris-based solution [is] more than 1,000 times more accurate than published fingerprint data."
That may be so, but the question nevertheless remains, "Can it be fooled?"
After all, the fingerprint reader in Samsung's S5 smartphone fell to crackers pretty quickly after it was launched.
In that attack, the researchers didn't even have to start from scratch.
Apparently, they simply re-used a wood-glue fingerprint replica they'd made six months earlier when they were trying to crack the fingerprint reader on Apple's iPhone 5s.
Latex eye, anyone?
Image of iris from Wikimedia, courtesy of Smhossei. (Licence: CC BY 3.0.)