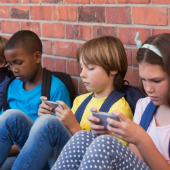 Back in the '90s, children attempting suicide were a rare thing.
A child psychotherapist in the UK says she would typically see one or two attempts per year.
Now, she's seeing as many as four a month – busier than she's ever been in 25 years of practice, with her colleagues reporting that they're similarly inundated.
The cause, she suggested, is children's constant internet access.
Julie Lynn Evans has worked in hospitals, in schools and with families, and she told The Telegraph that the skyrocketing rates of mental health problems in youngsters correlates with access to gadgets:
Something is clearly happening, because I am seeing the evidence in the numbers of depressive, anorexic, cutting children who come to see me. And it always has something to do with the computer, the internet and the smartphone.
The newspaper reports that official figures back her up, with emergency admissions to child psychiatric wards having doubled over the past four years and self-harm hospitalisations in young adults up by 70% in a decade.
Evans said the turning point was in 2010:
I saw my work increase by a mad amount and so did others I work with. Suddenly everything got much more dangerous, much more immediate, much more painful.
What changed over the past 5 years is kids' ownership of mobile phones – what she calls "pocket rockets" – which are now in the hands of over 80% of secondary school age children.
The idea that mobile phones can drive kids to suicide or other forms of self-abuse is simplistic, she admits, but it can't be denied that life has changed because of them:
It's a simplistic view, but I think it is the ubiquity of broadband and smartphones that has changed the pace and the power and the drama of mental illness in young people.
One major change is that with our always-on culture, bullies can for the first time follow kids right into their bedrooms, keeping up a nonstop stream of cyber harassment, all done beyond adult supervision, she said.
It differs from the old days, when kids might well have had phones to stay in touch with parents, but those phones weren't smart – rather, the devices were just dumb bricks.
Now, she said, young people can
access the internet without adult supervision in parks, on [the] street, wherever they are, and then they can go anywhere. So there are difficult chat rooms, self-harming websites, anorexia websites, pornography, and a whole invisible world of dark places. In real life, we travel with our children. When they are connected via their smartphone to the web, they usually travel alone.
Evans doesn't believe in letting kids have mobile phones until they're 14. She also believes in actively policing usage once they do get phones.
Of course, it's an understatement to say that monitoring kids' phone use won't make parents popular.
One 12-year-old US girl last week admitted to poisoning her mother in retaliation for taking away an iPhone. Most kids don't turn murderous over phone restriction, but such a discussion can still get tense.
There are many lists of tips for parents on how to negotiate device usage with children. Connect Safely, for one, advises parents to have a conversation – not give a lecture – about the use of a mobile phone.
The safety organisation suggests considering drawing up a family smartphone contract and talking with children about why each point is important.
As far as keeping your kids safe goes, Naked Security has some resources that we hope will help, including:
As always, we are deeply grateful for additional tips and resources, as well as input from adults who care for children and young adults.
Please do add to the conversation in the comments section below.
Image of children using mobile phones courtesy of Shutterstock.