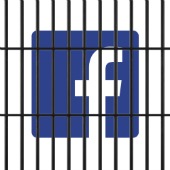 Bad things happen when we publicly post things that upset our bosses.
Sometimes, posts result in getting fired.
Sometimes, posts lead to losing a job before it starts.
But for a Florida man who posted about the company he worked for in the United Arab Emirates, the outcome was far more severe: it resulted in getting tossed into a Middle Eastern jail.
The Associated Press reports that Ryan Pate, a helicopter mechanic from Belleair Bluffs, Florida, had a mixup over sick leave with the company he was working for, Global Aerospace Logistics.
Pate, 30, told the AP that he had traveled home to Florida in December to spend the holidays with his family and to propose to his girlfriend, Jillian Cardoza.
He was also hoping, while in Florida, to get treatment for a back injury.
But seeing a doctor would have meant extending his leave, and that's where the disagreement boiled up.
After one particularly thorny phone call, Pate took to Facebook to complain about Global Aerospace Logistics.
Pate can't remember exactly what he wrote. He does remember throwing the word "backstabbers" into the post, which warned other contractors not to work for his employer.
Then, without giving it much further thought, he returned to Abu Dhabi to file paperwork required to end his employment, to empty out his apartment, and to sell his car.
Soon after he arrived, he got a call from the police, telling him to come to the station. That's when police showed him screenshots of his comments.
Officers arrested Pate for breaking an Emirates law against slandering his employer.
Cardoza said Pate sent her this text from the station:
I'm being arrested. I'm so sorry. I love you.
Pate spent about 10 days in jail. As of Thursday, he was free on bail, awaiting his trial on 17 March.
If convicted, he's facing up to five years in prison and a steep fine.
Pate's congressman, Rep. David Jolly, is working on his constituent's behalf, lobbying the State Department and Emirates officials for help.
Jolly has written to the Emirati attorney general, pointing out (respectfully) that, since the posts occurred while Pate was on US soil, the Emirati laws shouldn't apply.
A State Department spokeswoman, Marie Harf, told the AP that a consular officer had visited Pate in prison and that the embassy in Abu Dhabi would continue providing assistance.
In a phone interview with the AP, Pate said he's so accustomed to First Amendment protection of free speech that he never imagined his post could lead to such a serious outcome:
I just couldn't register it in my head because as an American growing up in the United States, the First Amendment right is just ingrained in my brain.
I never even entertained the fact that I would wind up in prison out here for something I put on Facebook in the United States.
He also said that he's remorseful for letting his emotions get the better of him.
Pate certainly isn't the first to suffer the consequences of unwise postings.
A high-profile case of people who've had their careers shoved into the mud came up earlier this week when Curt Schilling named and shamed Twitter trolls, leading to nine trolls who've been fired or kicked off athletic teams.
But while Pate isn't the first to regret a post, his is one of the most egregious outcomes.
To paraphrase Schilling, in the real world, you get held accountable for the things you say.
If you're not careful, accountability can be severe, whether it's getting fired, getting suspended from college, or even imprisonment.
Please learn from Pate's example, and don't forget: the First Amendment, or whatever law protects free speech in your own country, stops at the borders.
Image of jail bars courtesy of Shutterstock.