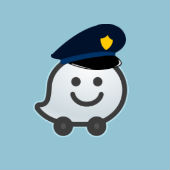 According to a local NBC affiliate in Miami, "hundreds" of police are polluting Waze as they "fight back" against the app's tracking of police, speed trap and driving under intoxication (DUI) checkpoint locations:
Police in Miami had a novel way of fighting back against Waze, which is owned by Google. Hundreds of officers downloaded the app to try and steer the data in the wrong direction.
If you're not familiar with Waze, it's a Google-owned app that relies on crowdsourcing as people report accidents, traffic jams, and speed and police traps, while its online map editor gives drivers updates on roads, landmarks, house numbers, and the cheapest nearby fuel.
It also gives drivers a heads-up when police are nearby, using two settings: an icon for hidden police, or an icon for visible officers.
As far as crowdsourced information goes, this crowd's pretty massive: Waze's user base is about 50 million people, all over the world.
As we reported in late January, Sheriff Mike Brown, of Bedford County, Virginia, who's also the chairman of the National Sheriffs' Association technology committee, had asked Google to shut off Waze's police tracking, suggesting that the company was being irresponsible.
Brown suggested that Google "act like the responsible corporate citizen" it's always been and remove the feature from the application "even before any litigation or statutory action."
The executive director of the Fraternal Order of Police, Jim Pasco, also suggested that the app could be used by lawbreakers in other ways:
I can think of 100 ways that it could present an officer-safety issue. There's no control over who uses it. So, if you're a criminal and you want to rob a bank, hypothetically, you use your Waze.
But these views are counterbalanced by officers who point out that knowing that police are around causes people to drive more responsibly.
In fact, California law suggests that, for a sobriety checkpoint to pass muster with the US Constitution and with California state law, roadblocks have to be publicly advertised in advance.
So much for the element of surprise.
Nick Selby, Dallas area detective and CEO of StreetCred Software, which makes intelligence tools for law enforcement, said that he's encountered a handful of police who are concerned about the app, but they're in the minority.
He says he's heard literally nothing that would make him think that anyone other than a few non-tech-savvy individuals might go so far as to game the system. Rather, cops either don't consider Waze a threat or don't consider it at all: rather, it's just a non-issue.
CNET's Chris Matyszczyk also entertained a dubious attitude toward the idea of cops doing what NBC says they're doing.
First of all, how could the cops – be they a minority or the "hundreds" cited – actually game the system, given that the crowd-sourced data gets voted thumbs-up or thumbs-down vis-a-vis credibility by Waze users?
First, CNET reached out to Major Delrish L. Moss of the Miami Police Department, who called the allegations bogus:
There is no such practice in the City of Miami Police Department. No officers have been instructed to do anything of the sort. If some people acted individually, the department has not been made aware and we do not condone the action. I believe that reports of this wherever they exist are false.
Of course, that's what you'd expect the bosses to say. But are the rank and file – "hundreds" of them – doing it without their higher-ups' say-so?
If so, it would show up as anomalous activity, Matyszczyk reasoned. So he got in touch with Waze, to see if it had detected any odd fluctuations in its police-reporting stats.
No, nothing weird's showing up, Waze spokeswoman Julie Mossler told him:
The amount of police alerts currently reported in Miami is at its normal rate.
Mossler also confirmed what one would assume about the vetting powers of a credibility rating: namely, that bad apples, be they lying cops or fibbing civilians, would be thumbs-downed out of sight and out of data stream-polluting potential:
Waze algorithms rely on crowdsourcing to confirm or negate what has been reported on the road. Thousands of users in Florida do this, both passively and actively, every day. In addition, we place greater trust in reports from heavy users and terminate accounts of those whose behavior demonstrate a pattern of contributing false information. As a result the Waze map will remain reliable and updated to the minute, reflecting real-time conditions.
Even if there are hundreds of cops downloading and trying to mess with Waze, it just won't do much good. Or, in this case, bad.
UPDATE 19 FEBRUARY: I got in touch with NBC's Jamie Guirola, who says his source for the information about Miami cops downloading Waze was Javier Ortiz with the Miami Fraternal Order of Police, a police union.
According to Guirola, the FOP instructed officers to download the app. I reached out to Sergeant Ortiz to find out if the FOP had also told police to mess with Waze by feeding it bad data, and if so, why. I'll update the story again if Sergeant Ortiz gets back to me.