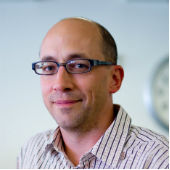 Lindy West is a writer for Jezebel: a blog, mostly about feminist issues.
The word Jezebel mentioned just about anywhere online is, in turn, a super-magnet for trolls.
But in a round-about manner, one of West's trolls has motivated a heartfelt mea culpa from Twitter CEO Dick Costolo, who's apparently stated baldly in internal memos that the company sucks at dealing with trolls and abuse, that it's sucked at it for years, and it's about time that it changed.
On Wednesday, The Verge published what it says are those internal memos.
The documents reflect a conversation started by an employee who asked what could be done about Twitter-enabled trolling after having listened to an episode of the public radio show This American Life in which West had described her own experience of being trolled.
From what The Verge says are notes leaked from Twitter forums, here's what the employee said on Monday:
A must read in its own right about cyberbullying. One section suggests Twitter can just do more.

I'm aware that Twitter is well within its rights to let its platform be used as a vehicle for sexist and racist harassment. But, as a private company – just like a comedian mulling over a rape joke, or a troll looking for a target for his anger – it could choose not to. As a collective of human beings, it could choose to be better.

(Note: Twitter hasn't confirmed the veracity of any of these purportedly leaked internal messages.)¸
The show, which aired on 23 January with the title If You Don't Have Anything Nice to Say, SAY IT IN ALL CAPS, focused on trolling.
One of the stories focused on West as she confronted the worst of her trolls: a man who actually apologised for his abuse of this woman, whom he'd never met and who had never done anything to him, yet whom he had tormented by means that included taking out a fake Twitter profile in her dead father's name.
To give you an idea of how diligently this unnamed troll abused West, it helps to know that he did his homework and knew details about her family.
The fake Twitter account included a real photo of her father, along with a bio that read:
Embarrassed father of an idiot; the other two kids are fine.
In a response devoid of excuse-making or any other C-level management-speak BS, Costolo responded to the employee who brought up the radio show:
We suck at dealing with abuse and trolls on the platform and we've sucked at it for years. It's no secret and the rest of the world talks about it every day. We lose core user after core user by not addressing simple trolling issues that they face every day.

I'm frankly ashamed of how poorly we've dealt with this issue during my tenure as CEO. It's absurd. There's no excuse for it. I take full responsibility for not being more aggressive on this front. It's nobody else's fault but mine, and it's embarrassing.
…and promised that Twitter's going to start kicking ass and taking names:
We're going to start kicking these people off right and left and making sure that when they issue their ridiculous attacks, nobody hears them.

Everybody on the leadership team knows this is vital.
In a followup message, Costolo took full responsibility for Twitter's sloth:
Let me be very very clear about my response here. I take PERSONAL responsibility for our failure to deal with this as a company. I thought i did that in my note, so let me reiterate what I said, which is that I take personal responsibility for this. I specifically said "It's nobody's fault but mine.

We HAVE to be able to tell each other the truth, and the truth that everybody in the world knows is that we have not effectively dealt with this problem even remotely to the degree we should have by now, and that's on me and nobody else. So now we're going to fix it, and I'm going to take full responsibility for making sure that the people working night and day on this have the resources they need to address the issue, that there are clear lines of responsibility and accountability, and that we don't equivocate in our decisions and choices.
In December, Shreyas Doshi, Twitter's Director of Product Management, User Safety, said that the company was working to make it simpler to flag Tweets and accounts for review, and would be adding more controls and features to its blocked-accounts page, including preventing blocked accounts from viewing a user's profile.
There's more in the works, Doshi said:
We are nowhere near being done making changes in this area. In the coming months, you can expect to see additional user controls, further improvements to reporting and new enforcement procedures for abusive accounts. We'll continue to work hard on these changes in order to improve the experience of people who encounter abuse on Twitter.
How do you block abuse?
Some have pointed out that auto abuse blockers that rely on shared lists of known abusers have actually been used to stifle speech.
One commenter on The Verge's story, "gregorian," suggests that a Troll Killer Department staffed with designers and programmers who investigate complaints and act aggressively on them might be one tactic.
He or she mused about adding such a job title to his or her tax return:
I would love 'Troll Killer' to become a legit IT profession that you can write on your Tax form.
Tell it to Dick Costolo, he might listen.