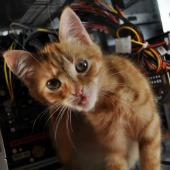 Remember the Japanese hacker who taunted police by leaving clues in a memory card that he tucked into the collar of a cat found wandering an island off Tokyo?
Police nabbed the cyber-riddler, who had left other clues over the course of months, in February 2013.
Now, he's been sentenced to 8 years in jail for making death threats including a threatened massacre at a manga comic book event, an attack on a school attended by the grandchildren of Japan's Emperor Akihito, and an attack on a plane.
Yusuke Katayama, now 32, went by the alias Demon Killer as he terrorized the country throughout 2012.
He reportedly commandeered strangers' computers by infecting them with malware planted via a link on the popular Japanese chat forum 2channel.
Then, he sent out threats that seemed to originate from his victims' own computers, leaving riddles along the way that seized the attention of the nation's media.
At the time of Katayama's arrest, Japan Times reported that Katayama, who had been employed by an information technology firm in Shinagawa Ward since 2008, had been dispatched to a company in Minato Ward as a computer programmer.
When police seized computers and other equipment from the company, they came across what they considered tell-tale signs that somebody was up to something he wanted to hide: namely, Tor anonymising software was used many times.
The BBC notes that police made numerous wrongful arrests during the hunt for Katayama.
In fact, one falsely suspected person was held for several weeks before media and a cybercrime expert received anonymous messages containing information that investigators conceded could only have been known by the real culprit, the BBC reports.
One such was an email Katayama sent to police that told them to head to Enoshima, an island off Tokyo, to look for the cat with the memory card on its collar.
The memory card held details of the malware he used to gain remote control of victims' computers.
The cat turned out to be his undoing: after police offered a 3m yen (£16,800, $25,500) reward for information leading to the arrest of the culprit, CCTV footage turned up in which Katayama was seen with the kitty.
Image of cat courtesy of Shutterstock.