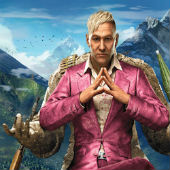 Far Cry 4 was his last Ubisoft game.
He had fun with Assassin's Creed, Dark Messiah of Might and Magic, and Splinter Cell, all purchased legally, as well as Watch Dogs, Resident Evil 4, and, well, the list goes on.
But over the weekend, Far Cry 4 disappeared, and 'slump3r' became one of many disgruntled Ubisoft customers who were stripped of their games when the game publisher revoked digital keys it says were "fraudulently" obtained and resold via third-party websites, such as Kinguin, G2A and G2Play.
Slump3r is an expat Belgian living in Poland. He or she says he buys from third-party sites because hasn't mastered the language and so bought the key digitally from a source outside of the country that could provide a French or English version.
There's also, of course, the price difference – third parties sell games at a steep discount, sourcing cheap, region-unlocked keys from countries where the price has been adjusted to reflect the local market or low per-capita income.
This opens up the field to grey marketers who scoop up the lower-priced games and resell them in higher-priced markets, thus undercutting the major players who stick to publisher-approved pricing.
Eurogamer cites the example of Assassin's Creed: Unity Uplay, Uplay being a digital distribution, digital rights management, multiplayer and communications service created by Ubisoft.
G2A sells such keys for $27.87 (£18.34) in the UK, while Ubisoft's Uplay charges $68.35 (£44.99).
Ubisoft issued this statement to Eurogamer on Monday:
We regularly deactivate keys that were fraudulently obtained and resold. In this case, we are currently investigating the origin of the fraud, and will update customers as soon as we have more information to share. In the meantime, customers should contact the vendor from whom they purchased the key.
Eurogamer surmises that Ubisoft could be targeting keys originally bought with fraudulent credit cards.
But if that is the case, it's chosen to penalise the gamers by stripping them of the ability to play, rather than taking issue with those supplying the keys.
Customer rights are fragile when it comes to purchasing digital games in online stores. That fragility may well have cost Ubisoft the loyalty of a number of customers.
Image of Far Cry 4, courtesy of Flickr user BagoGames.