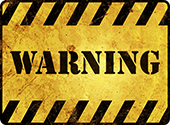 Facebook has started adding warning messages to graphically violent videos uploaded by its members, stating that their content may "shock, offend and upset" if viewed.
The social network will also prevent such videos and photos from appearing in the newsfeeds of any member who has identified themselves as under the age of 18.
Graphic video clips will not autoplay like other newsfeed items and will need to be clicked to start playing.
Speaking to the BBC, a Facebook spokesperson said:
When people share things on Facebook, we expect they will share responsibly, including who will see that content.

We also ask that people warn their audience about what they are about to see if it includes graphic violence.

In instances when people report graphic content to us that should include warnings, or is not appropriate for people under the age of 18, we may add a warning for adults and prevent young people from viewing the content.
The move was prompted by calls from members and advocacy groups and was endorsed by Facebook's own safety advisors who were likely responding to repeated criticism levied at the social network over it allowing graphic content which it deemed to be of public interest.
The company's own community standards prohibit the sharing of material for "sadistic pleasure or to celebrate or glorify violence" but its allowance of "graphic content that is of public interest or concern, such as human rights abuses or acts of terrorism" – including videos of beheadings and other acts of extreme violence – have often divided opinion.
After receiving complaints last year over allowing video clips on the site that depicted beheadings, Facebook at first experimented with a more basic warning system. It later decided on a blanket ban for the videos.
The new warning labels began appearing in December and apply to more general graphic material originally flagged up by users and then judged by the social network to be potentially disturbing.
A spokeswoman for Facebook said that the company is continuing to work on improving the system and that further enhancements may see similar warning messages added to other questionable material not already covered, such as Youtube videos and photos which are still displayed to adults.
Meanwhile other non-violent but questionable content will remain on the site and not be covered by the new warning system. If your friends are filling your feed with content you think is inappropriate you may wish to have a word with them.
If that doesn't work we covered how to block someone on the social network as part of our Facebook tips series.
And, if you want to stay up to date on all our Facebook-related news, please consider liking our page.
Image of warning sign courtesy of Shutterstock.