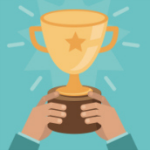 We're proud to announce that Sophos SafeGuard Enterprise has been awarded the 2014 TechTarget Readers' Choice Award for the best encryption solution.
TechTarget invited readers to complete an online survey to identify the top security tools from a list of more than 400 products for their ninth annual Readers' Choice Awards. 
More than 1,700 IT security professionals cast votes in one or more of this year's 22 categories and told TechTarget which products they can't live without. 
TechTarget asked their survey respondents to only rate the security tools in use in their environment, and then score each product based on criteria specific to the category. Winners are based on the cumulative responses for each product category criterion. 
TechTarget noted: "SafeGuard Enterprise lives up to its name as an enterprise-focused product to provide and manage encryption across multiple platforms throughout an organization. Deployment begins with the SafeGuard Policy Editor, a single console view of a centralized database of rules that can be fine-tuned to an impressively granular level, with policy rule sets and then distributed to all encrypted endpoints."
Also mentioned was SafeGuard's ability to leverage native operating system encryption (think Microsoft's BitLocker and Mac FileVault) for better performance.
In the case of Microsoft BitLocker, Terry Myerson, executive vice president of Microsoft's operating system group, told TechTarget that SafeGuard "gets the best of both native encryption and cross-platform control because it takes everything that makes BitLocker great and adds innovative compliance and enterprise management capabilities on top of it."
"The Sophos encryption team is honored to be recognized by TechTarget's IT community for providing the very best in encryption technology," said Anthony Merry, director of product management in the data protection group at Sophos. "This confirms our belief that our approach is delivering the best encryption solution in the market today. We thank the participants of the survey and will continue to innovate in this ever-evolving space."
To read the article and see the winners in all categories, visit TechTarget's website.
By the way, it's also worth mentioning that our Sophos Endpoint Antivirus received an award for best endpoint solution. Thanks to all the survey participants for the recognition!