With a busy week well under way at Amazon's re:Invent conference, we're pleased to launch our brand-new AWS Resource Center.
It showcases many of the ways Sophos makes AWS security simple!  You'll find a wealth of valuable information and resources that demonstrate just how easy it is to secure your AWS networks, servers, and applications with Sophos.  There are case studies, videos, guides, links to test drives, and much much more to help you get started securing your AWS infrastructure.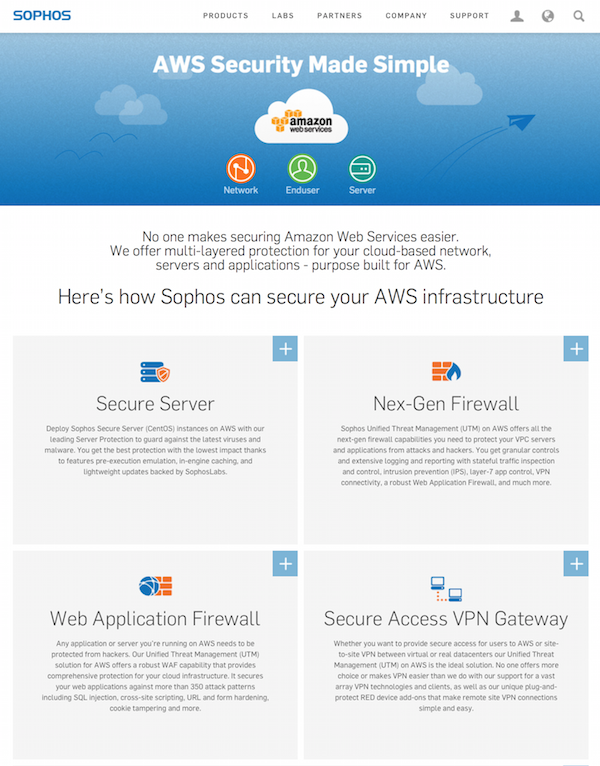 Check out our new AWS Resource Center
 Sophos Unified Threat Management (UTM) has long been ideal for providing rich reporting and next-gen firewall protection for Amazon Web Services.  And we continue to improve our next-gen firewall features and reporting all the time, with our latest UTM Advantage (9.3) release bringing a ton of helpful new features.
Sophos UTM can provide much needed visibility into all your network traffic on AWS, next-generation firewall protection with IPS and Layer-7 app control, or even sophisticated Web Application Firewall capabilities to safeguard your web sites and applications from hackers.  And, if you're using AWS for virtual desktops, Sophos UTM can also help you provide content security and web filtering to keep them malware free.
But there's more… Our recently announced Sophos Secure OS makes it simple to deploy a secure server environment within Amazon Web Services. Within a single AMI, it combines CentOS with a preconfigured installation of Sophos Server Protection. The result is an instant server with protection against viruses, Trojans and all the latest malware. Features Live Protection for real-time lookups of potential threats.
Simply visit www.sophos.com/aws to learn more or stop by at re:Invent and say Hello!